Last Updated on October 2, 2022 5:47 pm
The first hint of winter arrived across the High Country on Wednesday morning. This screen image from the live camera on Beech Mountain shows the burst of snow.
Screen images captured by Brad Panovich
This video from Beech Mountain TDA You Tube page shows the snow falling.
Grandfather Mtn reported flurries via twitter.
Meanwhile reports of sleet across the southern and western ends of Watauga starting coming in just before 10am. Although just a quick burst it was enough for many area residents to take notice.
Sleet on Beech Mtn. Photo: Mitzi Ulery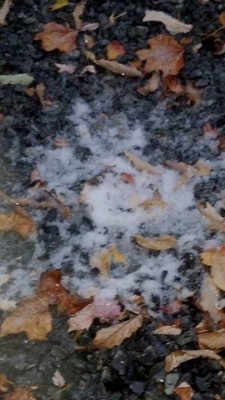 And on the other end of the spectrum Alice Harmon caught this double rainbow over Parkway school