Fall Color Peak Map
Map Conceived by Dr. Howard Neufeld and Michael Denslow
Map Constructed by Michael Denslow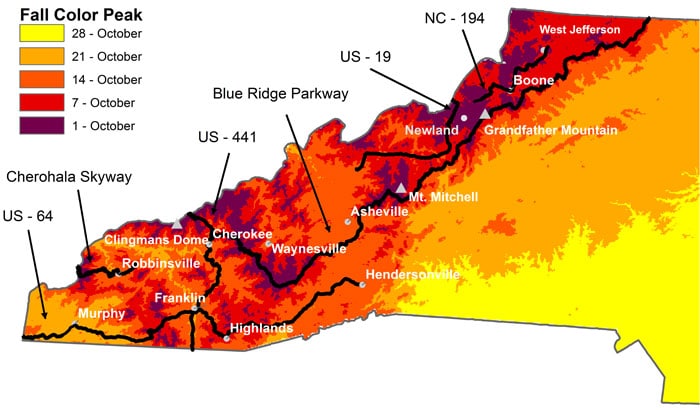 2018 UPDATES
For the 7th year in a row WataugaOnline.com is teaming up with Dr. Howard Neufeld, Professor of Plant Eco-physiology at Appalachian State University, better known as The Fall Color Guy to provide information as the colors start changing. For reports from previous years click here.
---
Dr.Neufeld shared some thoughts just before previous fall seasons that are still relevant for this or any fall season:
As for wet weather, there have been some publications on the impacts of weather on fall color (especially timing, not so much quality). Precipitation has only minor effects on timing in the fall. Temperature is more important. So, at this point, I don't see anything to make me think that fall colors will be adversely affected, either in timing or quality.
What happens in mid- to late August and in September, temperature-wise, will be more important, especially for quality (notably the intensity of the red colors)".
People think fall colors are good when they last a long time, and have plenty of brilliant reds interspersed with the oranges and yellows. So, the quality will depend on how much "redness" we have this fall.
Trees tend to make more red colors (anthocyanins) in the fall when it's cool and sunny, and if we have a slight but not severe drought.
Sunny days means more photosynthesis, and more sugars produced in the leaves, and sugars induce anthocyanin production.
A slight drought impairs uptake of nitrogen (we think) and some experiments suggest that plants low on N make more anthocyanins.
Usually, fall colors peak around Oct 11-14 in the Boone area; sooner by a few days up to a week at higher elevations, later at lower ones. Nice colors can stick around for a week or more, although the peak usually comes and goes in just a few days, weather permitting (no high winds for example)".
---
Fall Color Report for the Week of October 28, 2018
This is the peak weekend for fall colors in the High Country, some two weeks later than normal. Unfortunately, for many of you, Saturday was a bust, with rain and wind. However, today, Sunday, was quite nice, with clear blue skies up to about 3 pm, at which time the clouds moved in. Peak colors should persist for a few more days but by next weekend will be past in the High Country.
Also unfortunately, peak colors does not mean great fall color. This year has been one of the least colorful fall displays ever, primarily due to the unusually warm temperatures in September and early October, high wind events (but not from the two hurricanes that came through though!), and excessive rain. All of these have contributed to premature leaf loss and a failure to color up as in past years.
There are isolated locations with decent color, but they are scattered and few in number. The hillsides on either side of Rt. 105 just north of Foscoe around Devil's Den were looking quite nice today, but there are no good places to pull over for a view – you have to admire the colors while driving.
Many of the higher slopes are defoliated now and gray, and more leaves will no doubt come down tonight. As I write this, the winds have begun to blow vigorously outside and according to the weather reports, we will be in a wind advisory tonight. In addition, we have just had a huge bang of thunder and heavy rains are falling! How unusual for this time of year!! There go some more leaves! And Mila our red-tick hound dog, is shaking like crazy!
I took a drive today on the Parkway down to the Chestoa Overlook, which sits at about mile 321 at about 4,000' elevation. Despite its high elevation, the trees in the understory still had leaves on them, although many of the dominant overstory trees along the ridges were mostly leafless. This overlook is an easy walk from the parking lot, and you can see Table Rock Mt. to the southeast. There is also a view of the Linville Gorge Wilderness Area and Grandfather Mt.
I'm afraid the colors were quite muted from this overlook – at the lower elevations they are coloring up, and there is a smattering of reds among the yellows and oranges, but I don't think it will ever get as colorful as in past years.
From Chestoa I drove north to Beacon Heights and took the short hike up to the granite rock outcrops. The views there were much the same – lower elevations were coloring up slowly, and were very muted. I will post some pictures in an album shortly.
If you still haven't come up to see the fall colors, this week would be good, as well as next weekend, although the colors will be lower down, and not so much on the Parkway or in Boone or Blowing Rock. After next weekend, the colors will all be below 3,000' elevation, which means you could see them from the Parkway, but they will not be on the Parkway.
Sorry to be the bearer of such muted news about the fall colors – but the lack of brilliance this year is occurring all the way from the southern Appalachians up into Virginia and Maryland, according to reports from leaf lookers in those regions, and, most importantly, my mom!
---
Fall Color Update from Grandfather Mountain – October 17 – 26, 2018
---
Fall Foliage Report for Week of October 21, 2018
Today started off dreary and drizzly, but by noon, it began to clear up. However, as the skies cleared, the winds picked up, and throughout the day, we were buffeted by strong gusts. Of course, this took some leaves off the trees, especially those that had started to turn color.
That's sort of been the story here this fall – just about everything that could go wrong for good fall color has happened this year: I said for good fall color we needed cool, sunny weather, starting in September. Instead, we had record warmth and excess rain and clouds. I said we needed to avoid rainstorms with high wind, and we had two hurricanes. As a result, I think we are going to have a sub-par fall foliage season. On a scale of 1 to 10, with 1 being no color and 10 being excellent, I am going to rate this season as between 2 and 3. That's the lowest I've ever rated it in 11 years of doing this! Bummer!
There is isolated color here and there, but for the most part, the forests still have a lot of green showing (at least 40% or so, and even greater in some locations). Color is popping out, but there is a noticeable lack of brilliant red colors – we're seeing mostly yellows and oranges. Most people think the quality of the display is lower if the reds are not showing brightly. To add to the mess, many trees at the higher elevations have already lost most of their leaves, so those hillsides have a gray appearance now.
Below the Parkway, forests are still primarily green, although I did see color extending down to about 2,000' in some locations today. These areas usually peak at the end of October, and sometimes into the first week of November, so if conditions get more conducive for producing fall colors, the best colors may be in the foothills instead of the High Country.
I drove the Blue Ridge Parkway north up to Doughton Park, then reversed myself and took the Parkway south all the way past Grandfather Mountain. The story all along the way was much same: lots of trees with green leaves, trees missing leaves at higher elevations, and trees showing only muted colors in isolated locales. I'm afraid this year is a bust.
Because there are still a lot of green leaves out there, I'm predicting that colors will continue to develop this week, and peak by next weekend. After that, the best colors will appear at lower elevations down to 2,000' or so, and then in early-November they should be peaking at 1,500', e.g., in places like Chimney Rock State Park below Asheville.
I will be posting an album of photos from my trip today, so look for that once I get it uploaded. One last word: even though colors will not be great this year, there is still no better place to see great views than up here in the High Country, or all along the Blue Ridge Parkway down to the Smokies and up into Virginia. Last Saturday, when I was at Grandfather, it was so clear that we could see the Bank of America building in Charlotte, a distance of 82 miles as the crow flies. So, if you're wondering whether to come up or not, remember, a day in the mountains will give you memories for a lifetime.
---
Fall Color Report for Week of October 14, 2018
Today was the Fall Foliage Ramble up on Grandfather Mountain. I gave a talk on the natural history and science of fall colors at 2 pm in the auditorium at the Nature Museum. There were also exhibits by a number of groups, including the North Carolina Native Plant Society, represented by local chapter chair Dr. Annkatrin Rose. I'd like to thank Gabe Duff and Amy Renfranz, from the Grandfather Mountain Stewardship Foundation, for inviting me up to speak.
It was windy, cloudy and cool in the morning, but by 2 pm the weather calmed down and there were deep blue skies, low humidity, and views that went on for miles. 82 miles at least, because it was so clear that we could see the Bank of America tower from the top of Grandfather.
How were the trees doing? Well, they are………green! There has not been much if any color development in the two days since temperatures dropped. In fact, there is actually less color now because the ridges below Grandfather that were showing color two weeks ago had their leaves blown off by storms, and the ridge is back to mostly green. This is the first time I've ever seen retrograde fall color development!
At the high elevations on Grandfather the birches are much more noticeable, but other than that, there is not much to report. Just look at the photos I took in the accompanying album to get an idea of just how far behind the colors are this year. I estimate they are 10-12 days behind normal. We should be past the peak at the highest elevations on Grandfather, yet they have barely begun to show color as of today (Sat, Oct 13).
So, is there any good news? Yes. First off, temperatures are predicted to remain cooler over the next week with lows in the 40s and highs in the 60s. That should be perfect for stimulating color development. Second, trees below 3,500' are still mostly green, which means that they still have the potential to turn color in the next two weeks. So, if you take the usual peak color dates and simply move them two weeks later, you'll be on schedule for when the trees will change this year.
I'm still holding out hope that we will have some decent color over the next two weeks. I'll be checking things out between now and then, and will hit the Parkway next weekend to report on colors from there down to Asheville.
If you are wondering whether you should head up to the mountains, my advice is that you should. Each week now we should have more color, especially since the weather is moderating,. And even if the colors don't do well this year, it's always better in the mountains, color or not. Keeping my fingers crossed!
---
Fall Color Update from Grandfather Mountain – October 8 – 16, 2018
Fall Color Report for Week of October 6, 2018
The warm weather has persisted all week and is predicted to continue into next week. So far, this is the warmest fall on record for the mountains of North Carolina. Because of this, the fall foliage colors are very much delayed. I went hiking at Elk Knob State Park and it was still mostly green, even at the top, which is at 5,520' elevation.
I'm worried that if the warm weather carries on for another week or two it might result in a very poor fall color season. Already, some trees have dropped their leaves without changing color. Others may do the same over the next two weeks. The shorter days may push some trees to begin changing color even if temperatures main elevated, but it may result in a display of lower quality.
As you can tell, I'm frustrated at this point because we have never had weather like this before, so I have no precedent upon which to make my prognostications. We'll just have to watch together what happens. The longer it remains warm, the less confident I am that we will have a good fall color season.
At Elk Knob, the forests were still 95% green. Some birches are starting to yellow, as are sugar and mountain maple, witch hobble and some magnolias. But the beech trees, which dominate along much of the trail to the top, are mostly green. Only at the very top have they started to change to yellow and brown.
I then drove down to the Linn Cove Viaduct on the Blue Ridge Parkway, and the story was much the same. Color is mostly absent, with the exception of an isolated ridge here and there. Individual trees, such as maples, birches and cherries are starting to turn, but most other trees are still green. Sourwoods though, are peaking this week, so if you see a deep red colored tree, it is most likely that species.
In town, the ornamental red maples are showing good color at the tops, and some sugar maples are turning yellow/orange. But aside from this, not much else is apparent. It is greener at this date in October than in any previous year that I can remember.
On a more positive not, we will have more color next weekend than this weekend. Next weekend is usually when our peak occurs, but it will not be the peak this year. If the weather stays as is, peak color times will arrive one week to 10 days later than normal. Should we get a cool down, the colors can come on very quickly, and the trees could even catch up to their normal schedule, but the long-range forecast is not calling for that.
---
Fall Color Update from Grandfather Mountain – October 2 – 5, 2018
---
Maps via Foliage Network – http://www.foliagenetwork.net
---
Fall Color Update from Grandfather Mountain – Monday October 1, 2018
---
Fall Color Report for the Week of September 30, 2018
I am back from my two-day foray to the Smokies and my trip on the Blue Ridge Parkway. To get right to the point of my fall color postings I can state that everywhere and I mean everywhere, along the Parkway, the dominant color was GREEN. Usually by this time of the year, the upper elevations above 5,000' have significant color, and these high elevations often show their peak color at this time. However, this year, color development is way behind normal. Only some birches and mountain maples have started to change in a significant manner, and then only in isolated patches here and there.
I'll post an album of photos from the trip once I get them downloaded and labeled. Saturday was beautiful, with dramatic clouds against an azure blue sky, but today (Sunday) was mostly a bust – foggy and rainy. Temperatures are forecast to remain far above normal for the next week at least. If these high temperatures persist too far into the fall color season, not only will colors be delayed, but they might be far reduced in quality. Some trees, like red maples and tulip poplars, may simply drop their leaves before they develop significant color, resulting in a fall color display somewhat like last year, which also had above normal fall temperatures.
There was no color development at all in the Smokies or around Gatlinburg. On the initial portion of the Park road that goes up to Newfound Gap, you can still see the devastation from the wildfires of two years ago, with lots of dead trees on the upper slopes. Those fire scars will take decades to disappear.
After crossing over the Park I descended down toward Cherokee, NC. I couldn't park and take photos at Newfound Gap because it was too crowded and there were no parking spaces. Also, the Clingmans Dome road was closed because it was being used as a staging area to look for a hiker who disappeared last Tuesday. As of Sunday she had still not been found. This emphasizes an important point – never hike alone! Always have someone with you in case something happens.
Just past the Park visitor center on the NC side of the Park is where the Blue Ridge Parkway starts. I got on there and head to Waterrock Knob, which is just a few miles north of the intersection with Rt. 19. If you got off there, Rt. 19 would take you to Maggie Valley. The Waterrock Knob area has restrooms and a visitor center. There is a short half-mile hike to a nice overlook that you should consider doing. However, be forewarned that it is straight up, so take breaks, wear shoes with good soles (no slippery ones!), and you'll be rewarded with great views from the top. The most spectacular plant on this trail on Saturday was the witch hobble, which was in the middle of coloring up. See the album for pictures.
As I was leaving this site, I noticed some flowers in the grassy meadow that lies in the middle of the parking area. These flowers belong to a native orchid, which is something you might not expect in a mowed and maintained lawn area! I think these are Nodding Ladies' Tresses (Spiranthes cernua), one of the most common mountain orchids.
On Sunday, I headed to Graveyards Fields, but it was foggy and rainy. Prior to this, I stopped at the Devil's Courthouse, which is a few miles south of Graveyards. You can hike a paved path up to a walled-in lookout at the top. As with Waterrock, it is mostly straight up, and again calls for shoes with soles that grip to avoid slipping on wet rocks and leaves. The first two-thirds of the trail is paved, and if you pace yourself, it is not too strenuous. There are rare plants in the surrounding woods and peregrine falcons that nest on the cliffs. Because of this, you are requested to stay on the trails so you don't endanger either the plants of falcons. If you have good weather, you will be rewarded with great views.
I then headed north to Graveyards. You can take a short 0.2 mile hike to the lower waterfalls. The first portion of the trail is paved. If you cross the stream, and continue on the trail to the right, much of which is a boardwalk, it will take you to a view of the falls from the bottom. I apologize for my pictures from here, but in the middle of my hike, it began to rain very hard, and I got soaked and I wasn't able to get very good pictures. You can also take a longer hike (about 3.2 miles roundtrip) to see another falls here. Be forewarned that this is a popular place and the parking lot can fill up quickly. There are restrooms.
Lastly, I headed back to Boone. It was so rainy that I abandoned plans to see Craggy Gardens. As I exited the Parkway at Rt. 74A, a large black bear crossed the road in front of me. By the time I got over my surprise and got my camera turned on, I could only catch his/her rear end as it ran into the woods on the side of the road (see accompanying photo). Exciting!
Hope for colder weather – soon!
---
Fall Color Update from Grandfather Mountain – Tuesday Sept 25, 2018
---
Maps via Foliage Network – http://www.foliagenetwork.net
Fall Color Update post tropical storm Florence- Monday September 17, 2018 from The Fall Color Guy
Hurricane Florence has mostly left and is moving northeast now. The mountains didn't get as much rain as predicted – amounts varied from 4.4″ in Boone to nearly 7″ further north in Ashe and Allegheny counties. Winds were never that high either, with maximum gusts around 40 mph on average. As a result, we had only minor damage – a few trees down and some branches, plus a smattering of leaves. But the majority of the leaves are still up, and as I mentioned in several posts, it was fortunate that the storm came this early in the fall leaf color season, as otherwise more leaves would have come off.
However, temperatures this week are predicted to be 5-8 F above normal for the rest of the week. It's better for fall colors when temperatures at this time of the year begin to drop, and we haven't seen that yet. It's not as hot as last year, but it's still to high for my liking.
I wasn't able to go out this weekend, so I don't have anything to report on the trees. The Blue Ridge Parkway was completely closed for the hurricane. I expect it will be open up soon if not already.
Talk to you all soon!
---
Fall Leaf Color Report for Week of September 9, 2018
This week has been almost a near repeat of last week, with slightly above average temperatures and sporadic precipitation. The NOAA long-range forecast has a 33% chance of slightly above normal temperatures through November. Remember, for the best fall colors September should be cool and sunny. Now that we are halfway through September, and it's still warm, I'm going to make my first comment on potential fall leaf color andsay that it may not be the highest quality, but premised on the fact that it remains warm the rest of this month.
Last year, we had oscillations between cool and warm weather, which totally confused the trees (if a tree can be confused!). The red maples in Durham Park on the Appalachian State University campus started to develop some red coloration, but then in one week dropped all their leaves before they reached their full color potential.
I'm going to keep my report short this week, as not much has changed much from last week to this one. Tulip poplars (Liriodendron tulipifera) are just now starting to show yellow leaves, which is the major change that I see from last week. Otherwise, nothing new to report.
I did try out the Boone Fork Trail today, a 5-mile loop trail that starts at the Julian Price picnic area on the Blue Ridge Parkway. The trail begins in an old field that was once a lakebed, and which is full of old-field herbs, then hugs the creek before heading uphill and into the woods. It was quite muddy today. If you take it, note that there are rocks to climb over, and a ladder to get up one set of rocks, but it's not a difficult hike. But don't try it with slippery-soled shoes.
Two of my students are studying how American chestnut saplings respond to sunflecks – these are the short-lived bright flecks of high light that make through openings in the overstory tree canopy. Although they may only occur 10% of the time, they can contribute enough high light for an understory tree to do 75% of its photosynthesis over the course of a season. Thus, they are disproportionately important to the tree. See the accompanying photographs of my students using a portable photosynthesis system to measure photosynthesis and transpiration of a leaf.
Lastly, I now have a circular polarizing filter on the camera. It makes a slight difference but I am still getting used to it. Hopefully it will improve my photos of fall colors and views.
Have a great week!
---
Fall Leaf Color Report for Week of September 2, 2018
This week has been quite warm, with above average temperatures. We've also had sporadic rain storms, including yesterday and today. My wife and I got rained out of our hike to Beacon Heights on Saturday, but we managed to squeeze in the Flat Rock Trail before the heavens gave way.
Today we had rain from 9 am until the early evening, including a whopper thunderstorm. This year has had interesting weather – we get thunderstorms, but with very little wind; just drenching rains. Last year, I had to water plants on my front patio about every other day. This year, since May, I've only watered the plants twice all summer! I'm a little worried about all the rain, but there is plenty of time for it to cool off and get sunny, which brings out our best colors.
There have been a few changes from last week's report. The yellow buckeyes (Aesculus octandra) are accelerating their leaf color changes and you can spot them along roadsides as you drive by, or when you are hiking in the woods. The same can be said for sourwood trees (Oxydendrum arboretum), which are developing deep red leaves now. When displayed against their white sprays of downward-hanging fruits, these trees can be among the most colorful in the south. One of my favorite fall color trees!
The striped maples (Acer pensylvanicum) have started to change leaf color. They turn a dull yellow, with the veins remaining green until the end. These are small, understory trees with large tri-lobed leaves, and the bark often has white stripes splayed on its green to gray bark, hence its name. In exposed areas, like the rock outcrops at Beacon Heights and Flat Rock Trails, the huckleberries and blue berries, along with choke cherries (Aronia melanocarpa), are already turning colors. The blueberries and huckleberries turn a deep burgundy color, while the choke cherry gets bright reddish/orange leaves. Both have dark blue to black blueberry-sized fruits.
Sassafras (Sassafras albidum) has started changing also. It has interesting leaves that come in a variety of shapes: one is a simple ovoid shape, another is shaped like a mitten with one thumb on the side, and yet another is tri-lobed. Why it produces leaves with three different shapes is a mystery. Leaves turn orange to red, but can also be yellow, so this tree can be one of our most colorful in the fall.
Mountain ash (Sorbus americana) is fruiting now. The fruit clusters are initially orange in color, but by October, when they mature, will turn a bright red. This tree only grows at high elevations (generally above 4,000') so to see it you'll have to get to those higher areas, such as Grandfather Mt., Elk Knob, or portions of the Blue Ridge Parkway that get that high. The leaves are somewhat of a disappointment, turning a dull yellow and not really contributing to the fall color display, but the fruits are definitely worth it and when photographed against a bright azure cloudless sky, make for a striking image.
Virginia creeper (Parthenocissus quinquefolia) is starting to turn a deep red and over the next two weeks should color up nicely, as should poison ivy (Toxicodendron radicans). To distinguish the two vines, note that Virginia creeper has leaves with 5 leaflets, and the little tendrils that hold the plant onto its host tree are coiled and have a pad at the end (it exudes a glue that sticks it to the tree). Poison ivy, on the other hand, has 3 leaflets per leaf, which are shiny, and has a fibrous root system that sticks it to its host tree. Don't touch either if you aren't sure which is which, as poison ivy rash is a real pain to get! Whether poisonous or not, vines are an under-appreciated component of fall leaf color displays.
Suggestions for hikes: if you have young children, then consider the 2 mile round-trip hike around Price Lake. With easy access off the Blue Ridge Parkway, it's a level walk which makes it kid friendly (although you'll probably have to carry them over the last part once they tucker out).
Another nice hike, but longer and with minor elevational changes, is the Boone Fork Trail, which begins in the Price Picnic Area (just north of Price Lake). It is a 5 mile loop trail, with pasture, woods, creeks, and forests. You may also see beaver if you're lucky.
In about two weeks, it should be nice hiking at Graveyards and Craggy Gardens on the Blue Ridge Parkway, south and north, respectively, of Asheville. Both offer great views and hiking. I'll be visiting these later this month and will report back.
That's about it for this month. Check out the photo album I posted earlier from the Flat Rock Trail hike and have a relaxing rest of the Labor Day holiday.
Postscript: we're still excited here about ASU nearly beating Penn State in football. Boy was that a game! After coming back with 4 touchdowns in the fourth quarter to take a temporary 38-31 lead, PSU tied it and then won in overtime 45-38. This bodes well for a good season perhaps! And to boot, Rutgers, my alma mater, won its first game – go RU! For those who don't know, Rutgers and Princeton (just down the road in NJ) played the very first intercollegiate football game, back in 1869.
---
Fall Leaf Report for Week of August 26, 2018
The days are getting shorter and the mornings cooler. This past week, after a cold front moved in from the upper Midwest, our morning temperatures dropped to the low 50s and in some places as low as 45F! Perfect temperatures for getting the trees to start changing color.
In Boone, some of the planted red maples (Acer rubrum) and burning bushes (Euonymous alata) are starting to develop their characteristic red coloration. Urban street trees generally turn earlier than trees in the forests outside town. This is most likely due to genetic selection for street trees that provide vivid fall color. Some of the red maple varieties sold to nurseries go by the names Autumn Glory, Autumn Blaze and Autumn Flame! They probably turn early because they are from the north originally, and trees from the north, if they are responding to the changes in daylength, would find shorter days in the south, which would indicate cold weather were they up north where the days are longer in summer.
I found a very nice basic introduction to fall foliage colors. You can access it here:
https://learn.weatherstem.com/modules/learn/lessons/91/index.html. It's in the form of a PowerPoint presentation and has some nice information and graphics on fall leaf colors. In particular, pay attention to the graph on daylength (slide 13). Daylength varies as a function of latitude: in summer, days are longer the farther north you go. But in the winter, they are shorter.
As the days get shorter (which has been happening since June 21!) trees begin to sense this and several things begin to happen in the leaves, including slower production of chlorophyll, the pigment responsible for making leaves green; less sugars produced because there are fewer hours of daylight for the trees to carry on photosynthesis; and changes in hormones that begin the process of leaf senescence (controlled dying) and eventually lead to the leaf dropping off the tree.
These changes also trigger the color changes. As the chlorophyll degrades, the oranges and yellows (due to compounds known as carotenoids) are revealed, and if there are cool, sunny days, some trees use the sugars produced from photosynthesis to make anthocyanins, the pigments that color leaves red.
So, what's happening this week with fall leaf colors? I took a hike up Rough Ridge, just north of the Linn Cove Viaduct Visitor center, and one of the most popular hikes on the Parkway. I highly recommend this hike of about 1.5 miles. It ends at a rock outcrop with great views to the east of the Wilson Creek drainage. The trail branches off to the right just before the rock outcrop and winds its way through beautiful forests for a few miles more before ending at the Visitor Center. If you decide to hike through, it's best to park one car at the Visitor Center, then drive down in another car to the Rough Ridge parking lot and start the hike from there. Otherwise, you're going to have a very long hike back to your car. Or you could do what a colleague of mine did on Saturday – he dropped off his bike at the Visitor Center, drove down to the Rough Ridge parking lot, hiked back to the Visitor Center, and then rode his bike the 4 miles back to his car. Whew!
I'll attach an album of pictures that I took on my Saturday hike and one for the street trees that I took today. I noticed that the huckleberries at Rough Ridge are turning red now, and a few shrubs (including witch hobble: Viburnum lantanoides) are fruiting. One witch hobble is located near the beginning of the Rough Ridge trail and its leaves turn a deep purple. This species is unique in that it colors up in patches that over time coalesce until the entire leaf is purple. See the photos I took of this.
Otherwise, the forests are still 100% green and they appear to be on schedule. There is no evidence of any early fall leaf colors at this point in time.
Next weekend is Labor Day weekend and a word of caution: the Parkway will be filled with visitors, assuming the weather is good, and if you're coming up to see the views, take that into account. Get out early to avoid traffic and crowds. If you're going to Grandfather Mountain, arrive early to avoid traffic jams and crowds. Elk Knob State Park north of Boone on Rt. 194 is also a great place to visit, with a 2 mile hike to the top where you can have a 360 degree view. Later in the fall, when colors peak, you can see some of the best fall foliage color from this Park.
So, enjoy your week and the upcoming Labor Day Holiday. I have a busy weekend planned of doing …. nothing! For the sports minded, Appalachian State University, where I teach, will be playing Penn State University in football that weekend. A David vs Goliath confrontation if ever there was one. Let's hope for the best!
---
Fall Leaf Report for Week of August 19, 2018
We're still officially in summer, and in some areas, this time of the year is often referred to as the dog days of summer. However, "officially", the dog days run from July 3rd to August 11th and while it is hot out, we are past that end date. While we tend to associate late summer days with dogs purportedly going crazy from the heat, in fact, the term 'dog days' arises because these times coincide with the rising of the dog star, Sirius. In ancient times, this was associated with wars and disasters, but the modern meaning, as we know it, didn't begin to come around until about 500 years ago. For more on this term, see this short article from National Geographic Magazine.
https://news.nationalgeographic.com/…/150710-dog-days-summ…/
The dog days means there are still 6-8 weeks to go before we hit "peak leaf color", depending on your elevation and latitude. However, that doesn't mean trees haven't started responding to seasonal changes, such as shorter day lengths, cooler nights, and the occasional insect or disease pest. There is some color change occurring, but only sporadically.
As the attached photos show, some trees are already turning, but these are mainly urban street trees, and most commonly, ornamental red maples. Near Galileo's restaurant, a planted red maple has already completely turned red. I have commented on this particular tree in the past, and I don't know why it does this, but genetics probably has something to do with it.
For native trees in the woods, you can now observe yellow buckeye leaves (Aesculus flava) beginning to turn yellow and orange. The buckeye genus contains several species, all of which have an unusual leaf phenology: they leaf out very early in the spring and are often the first tree to do so, and then are among the first to lose their leaves in summer. One species, the Georgia buckeye (Aesculus sylvatica), which I have published on, can be completely devoid of leaves by the end of August. Here in the southern Appalachians, yellow buckeyes defoliate by mid-September, but are susceptible to a leaf fungus that turns the leaves brown (https://bygl.osu.edu/index.php/node/837). As such, it does not rank high in terms of its color display.
The earliest display of leaf color occurs on flowering dogwoods (Cornus florida). Dogwoods around my home just west of Boone began coloring up two weeks ago. Although they turn color early, they will retain their leaves through September. They turn red to protect the leaves from the combination of cold temperatures and high light, which can start to occur in September. The red pigment, called anthocyanin, acts as a light shield that prevents the leaf from being damaged from by the high light when it's cold outside. This in turn, allows the leaf to complete re-absorbing nutrients from the dying leaves, such as nitrogen, phosphorus, and potassium, and storing them in the twigs, where they can be re-used next spring to help produce next season's leaves.
If you are driving the roads these days, you may see many brown trees. These are most likely black locust trees (Robinia pseudoacacia). See the photos attached. The browning is caused by the locust leaf miner (Odontota dorsalis), which eats out the middle of the leaves, causing them to turn brown and die (http://bugoftheweek.com/…/scorched-locust-locust-leafminer-…). It is a native insect, and does this year after year, with no apparent detrimental impacts on the locust trees. It's just a late summer 'thing'.
Forests outside city limits here in the southern Appalachians are effectively 100% green this week. We won't see major coloration on the slopes until late September, although the occasional tree may light up. A fall leaf color display worth a drive up to see will start in earnest by the beginning of October, and peak in the middle of that month, at least at elevations between 4,000' and 3,000'. Higher up, colors will appear the first week of October, while at lower elevations, the last week of October.
Finally, if you go out for a hike in the next few weeks, look down. There are things happening close to the ground that are worth viewing. This week, for example, Jack-in-the Pulpits (Arisaema triphyllum) are fruiting. These are beautiful woodland herbs, recognized for their unique flower structure, bright red fruits when mature, and glossy, tripartite green leaves. Forest fungi are having a banner season because of all the rain we've received this summer. Note the photo below of the large brown fungus I found in the Appalachian State Nature Preserve this week – it is about 16" across!
I hope this brings you up-to-date regarding the latest fall leaf color developments. See you all next week!
---
In getting a preview for the 2018 season,Dr. Neufeld tells WataugaOnline.com, "It's been somewhat of a rough going these past two years, but hopefully things will turn around this year. So far, the weather is cooperating. We haven't had extremely high temperatures, nor any serious droughts in the mountains."
He also adds, "I haven't seen any signs of major diseases on trees, although this year the tent caterpillars are having quite a show, mainly on black cherry trees. You may have noticed their webs at the ends of branches. Some trees can get quite infested and they will devour the leaves. So those trees won't be showing much this year. Black locusts are turning their usual brown now, due to a native leaf mining insect, but they always come back year after year, no harm done."
"A few trees have already started to turn color, but don't panic – these are sports that always turn early each year. I will include some photos of them later today. I have no good idea why they turn so early each year. They are simply weird trees."
"The majority of trees in the woods haven't done much turning yet – a few tulip poplars are dropping their older leaves here and there, but nothing major. And I haven't noticed the leaf weevil on them this year, which did a number on them near Asheville a few years ago. However, flowering dogwoods are definitely beginning to color up (see attached photos). This species will begin to slowly turn their usual deep burgundy red, even in August, but the colors develop slowly, and build up all the way into October. It has one of the more extended leaf coloring periods of any of our native species."
"People always ask if summer weather has any effects on the timing or quality of fall leaf color. In a nutshell, it does not, severe drought not included. But the weather in mid- to late August and through September is critical. Overly warm temperatures in August, and particularly in September, will delay colors by a several days, and reduce the intensity of the color of red leaves. It may also disrupt the fall leaf color synchrony, with some species turning at their normal time (such as sourwoods) while others, such as red maples, delaying their colors until temperatures cool down again. This tends to reduce the visual quality of the fall leaf color experience because by the time the delayed species color up, the early ones have already dropped their leaves. It's always best when all the species color up at near the same time."
"The other weather factors that can affect fall leaf colors are precipitation and cloudiness. If both occur with regularity in September they will dull the redder colors. The best conditions for red coloration are sunny, cool (but not freezing) days, and cold nights (again not below freezing). If we get those weather conditions in September, then we will be in for a good show. But clouds hold in the heat at night while during the day they lower the light intensity, resulting in less photosynthesis. Trees need the sunlight to manufacture anthocyanins, the pigment that gives leaves their red coloration."
"Lastly, if we have a wind storm near or at the peak of fall leaf color, it can take down a large number of the leaves, reducing the length of the fall color season. This has happened on and off over the years, but luckily, such events are not too common."
"All in all, at this early point in the season, I am predicting a good fall leaf color year."