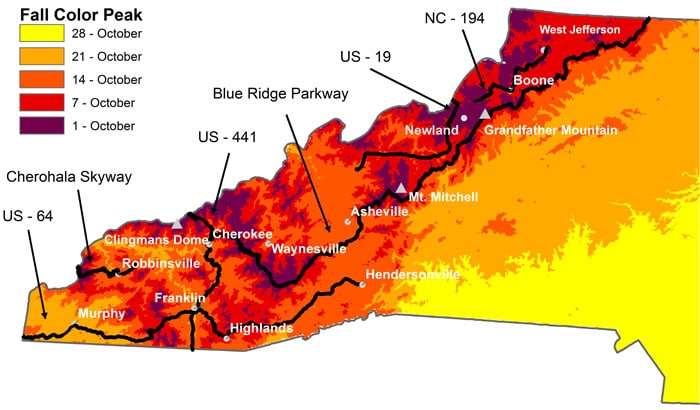 Fall Color Peak Map
Map Conceived by Dr. Howard Neufeld and Michael Denslow
Map Constructed by Michael Denslow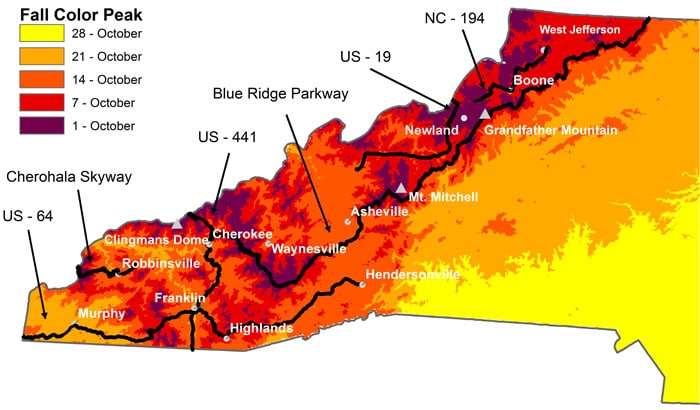 ---
2021 Updates
For the 10th year in a row WataugaOnline.com is teaming up with Dr. Howard Neufeld, Professor of Plant Eco-physiology at Appalachian State University, better known as The Fall Color Guy to provide information as the colors start changing. For reports from previous years click here.
Dr. Neufeld shared some thoughts just before previous fall seasons that are still relevant for this or any fall season:
As for wet weather, there have been some publications on the impacts of weather on fall color (especially timing, not so much quality). Precipitation has only minor effects on timing in the fall. Temperature is more important. So, at this point, I don't see anything to make me think that fall colors will be adversely affected, either in timing or quality.
What happens in mid- to late August and in September, temperature-wise, will be more important, especially for quality (notably the intensity of the red colors)".
People think fall colors are good when they last a long time, and have plenty of brilliant reds interspersed with the oranges and yellows. So, the quality will depend on how much "redness" we have this fall.
Trees tend to make more red colors (anthocyanins) in the fall when it's cool and sunny, and if we have a slight but not severe drought.
Sunny days means more photosynthesis, and more sugars produced in the leaves, and sugars induce anthocyanin production.
A slight drought impairs uptake of nitrogen (we think) and some experiments suggest that plants low on N make more anthocyanins.
Usually, fall colors peak around Oct 11-14 in the Boone area; sooner by a few days up to a week at higher elevations, later at lower ones. Nice colors can stick around for a week or more, although the peak usually comes and goes in just a few days, weather permitting (no high winds for example)".
---
Fall Color Report for Week of November 10, 2021
I'm getting down to the end here. Today my wife and I traveled to Stone Mountain State Park (https://www.ncparks.gov/stone-mountain-state-park/home, https://www.carolinacountry.com/…/a-sheet-of-granite…) in northern Wilkes County and also Alleghany County, just east of the Blue Ridge Parkway, at about 2,300' in elevation. This is a beautiful park, with 18 miles of hiking trails and overnight camping. It's especially beautiful in the fall when the surrounding woods are ablaze in color. It's only 1.7 miles to the summit with the granite rock outcrops at the top and which afford you excellent viewpoints in nearly all directions. This is the week to visit this park, as the colors are peaking now. They should last through this week into the upcoming weekend. Colors might also persist into next week too, but it is supposed to get cold after the weekend, which could hasten leaf fall. But I think you have a 7-10 day window to see great colors.Be aware that this is a popular park, and if you come on the weekend, get there early, because if it fills up, and you might not be able to get in. Coming during the week is the best way to avoid crowds.
Other plants you may see are Virginia pine, sumac (bright red leaves), blueberry (low shrubs with red leaves), various mosses and many different lichen species, particularly on the rock outcrops. There was also a fire some time back and the beginning of the summit trail passes through the burned area.
Next week I have to go to Black Mountain, so while there, I'll take in Chimney Rock State Park, which is not too far away. That will definitely be (cross my heart and hope to live!) my last leaf color trip of this season. I wasn't planning on this trip, but I was invited to visit some people there and decided I could squeeze in a visit to the Park that same day. I'll report on it next week, which should be coming along nicely now and have good color then.Have a great weekend!
---
Fall Color Report for Week of October 17, 2021
Today I went up to Carver's Gap at Roan Mountain, which straddles the NC and TN state line. The Appalachian Trail runs north/south across the top. It was cold today – way below freezing when I got there at around 9 am (and it was already crowded with people!). I found a parking space and decided to check out the Fraser firs on the south side of the gap: quite dense woods, with an understory of Fraser firs about three feet tall, just waiting for the taller trees to die before they take over as the dominants. Then, I headed back to the parking lot and went north up onto the balds, where most people hike.
I'm glad I wore warm clothes – it was in the 20s when I started off, with a stiff wind blowing from west to east. I hiked up to Jane Bald at 5,807 feet, then about a mile farther onto another bald even higher (I must have been above 6,000' by then). Lots of hoar frost on the plants there. Hoar frost forms when vegetation gets below freezing and water vapor in the air begins to form on the leaves and stems, frozen dew so to speak. Hoar frost gets it name from its appearance, which resembles hair growing on the plants and hoar is an Old English word for old age.
I've posted some photos of the hoar frost on the bald. You often see it around the margins of leaves. This is because leaf edges cool quicker and to a greater extent than the main part of the leaf, a result of a smaller "boundary layer" at the edges of the leaf. A boundary layer is a layer of relatively still air that retards the loss of heat from a leaf. The thinner the layer, the faster heat will reradiate to the atmosphere from the leaf, thereby cooling it, sometimes below air temperature, which is why the hoar frost can appear even when the air is above freezing.
The colors up at Roan are peaking now, and quite spectacular I must say, once you enter the Cherokee National Forest coming up from Roan Mountain, TN. Take Rt. 194 south from Banner Elk, turn right onto U.S. 19E toward Elk Park, then go five miles and take a left at the sign for Rt. 143 and head for the state park. Go through the state park all the way to the top (about 8 miles). You can park at the top and then hike the Appalachian Trail, either north or south from there.
The maples, birches, and beeches are in fine form starting from the Cherokee National Forest sign to just below Carver's Gap. Up on the bald, you'll find red spruce and Fraser firs (this latter species is the one grown for Christmas trees), rhododendron (which bloom beautifully in mid-summer), and blueberries, plus lots of grasses, mosses and ferns.
Balds are an enigma in the Southern Appalachian Mountains, but have been around for thousands of years. The reasons for the absence of trees are still being debated, but if fire is kept out for too long, woody vegetation tends to encroach. Native Americans may have routinely burned the balds to favor grasses to attract the deer they hunted.
I highly recommend hiking at least to Jane Bald (maybe a mile or so), where you can have wonderful views in all directions. To the southeast you can see Mt. Mitchell, the tallest peak in eastern North America at 6,684 feet. To the north, you can see Grandfather Mountain, and on clear days, maybe all the way into Virginia.
As for other locations for fall color, the Blue Ridge Parkway around Grandfather Mountain is peaking this week, including Rough Ridge and the Linn Cove Viaduct. The same can be said for Elk Knob State Park north of Boone. More areas will be coloring up now that it has cooled down and is mostly sunny. Lower elevations will be developing color this week and by next weekend, there should be excellent color along the Parkway in most places. Below Asheville, places like Waterrock Knob are peaking now, and may be past peak by next weekend. However, even if higher elevation sites are past peak, lower elevation sites will be coming into their best color over the next two weeks.
Temperatures are going to begin rising again later this week, which is unfortunate, as we need the cold to bring out our best colors. But I think it will be cool enough in the mountains to spur on the colors. So, this week and next will be ideal to head to the mountains here. Have a safe trip if (when!) you decide to come up.
---
Fallen leaves line the Tanawha Trail footbridge over Wilson Creek, just off the Blue Ridge Parkway (Milepost 303.6), as the remaining greenery begins turning to gold.
Color continues to progress at higher elevations along the Blue Ridge Parkway and Grandfather Mountain. One of the most perennially colorful stretches is Rough Ridge, near Milepost 302.8 on the Parkway, and color can be seen popping between that particular milepost and the Grandfather Mountain exit (Milepost 305). This weekend marks the last of 2021's Fall Color Rambles on Grandfather Mountain, as the daily hikes through the park's most colorful areas conclude this Sunday, Oct. 10. These short and easygoing guided strolls are offered free with admission. Learn more at www.grandfather.com. Photos by Skip Sickler | Grandfather Mountain Stewardship Foundation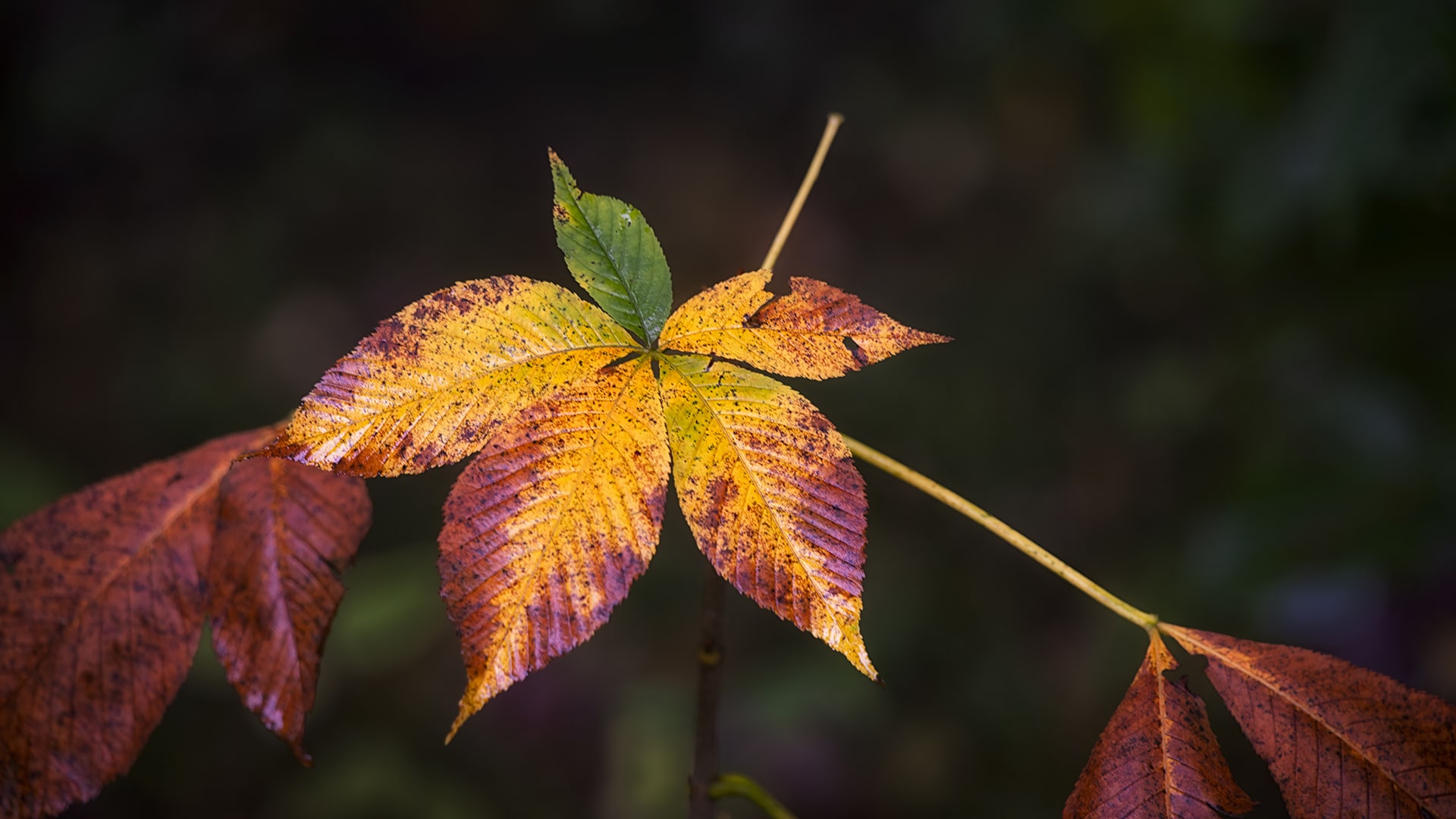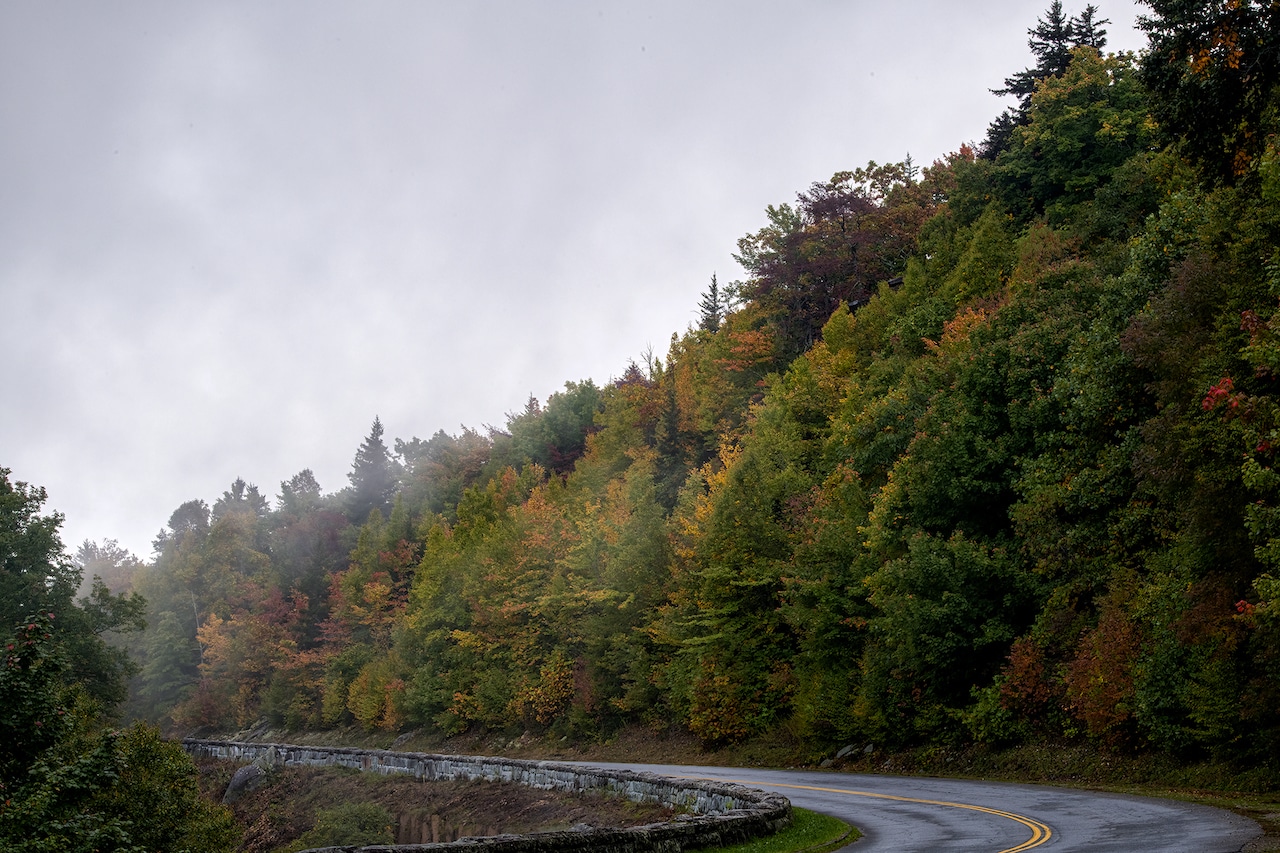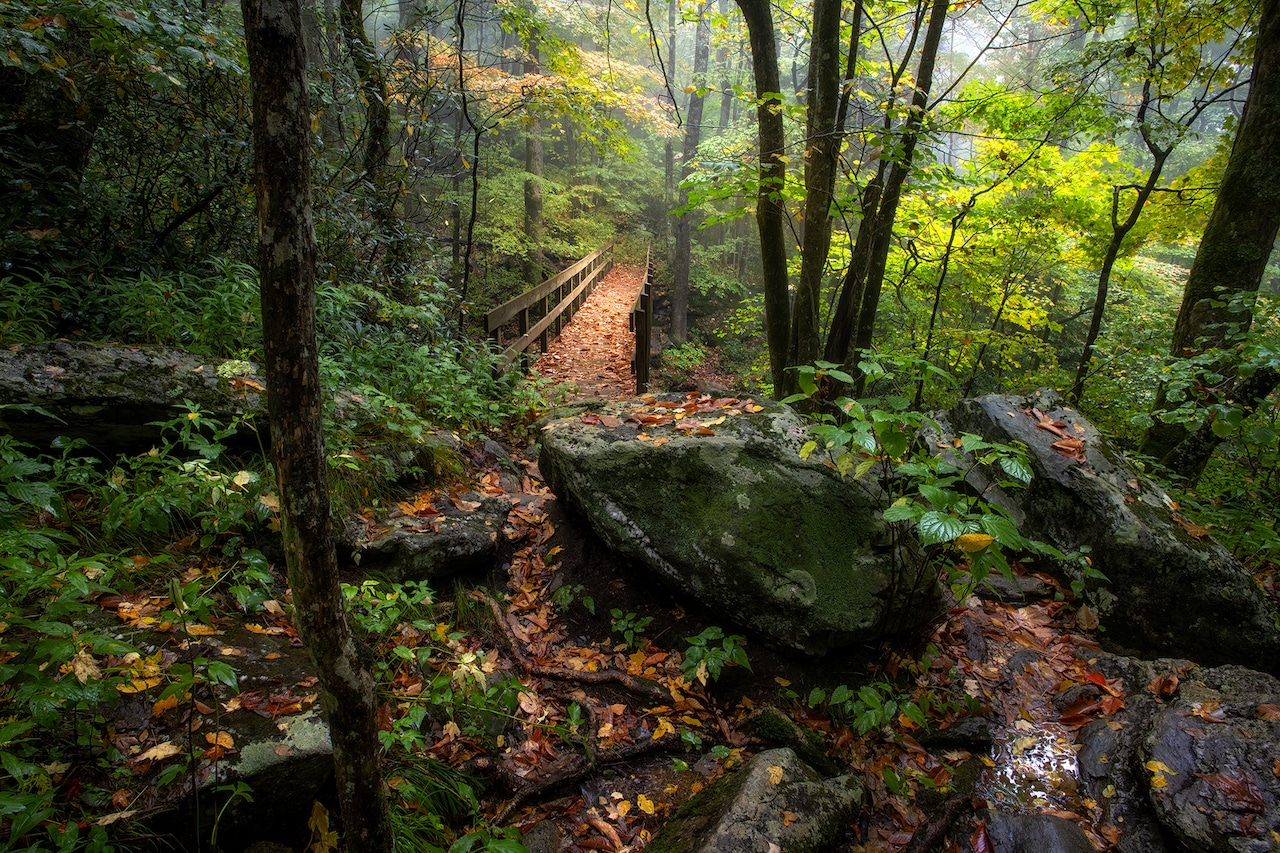 ---
An early morning break in the clouds offers stunning views of color-dappled hills and valleys, as seen from atop Grandfather Mountain's Linville Peak and the Mile High Swinging Bridge. For more fall color photos, visit grandfather.com/fallcolor. Photos by Skip Sickler | Grandfather Mountain Stewardship Foundation | grandfather.com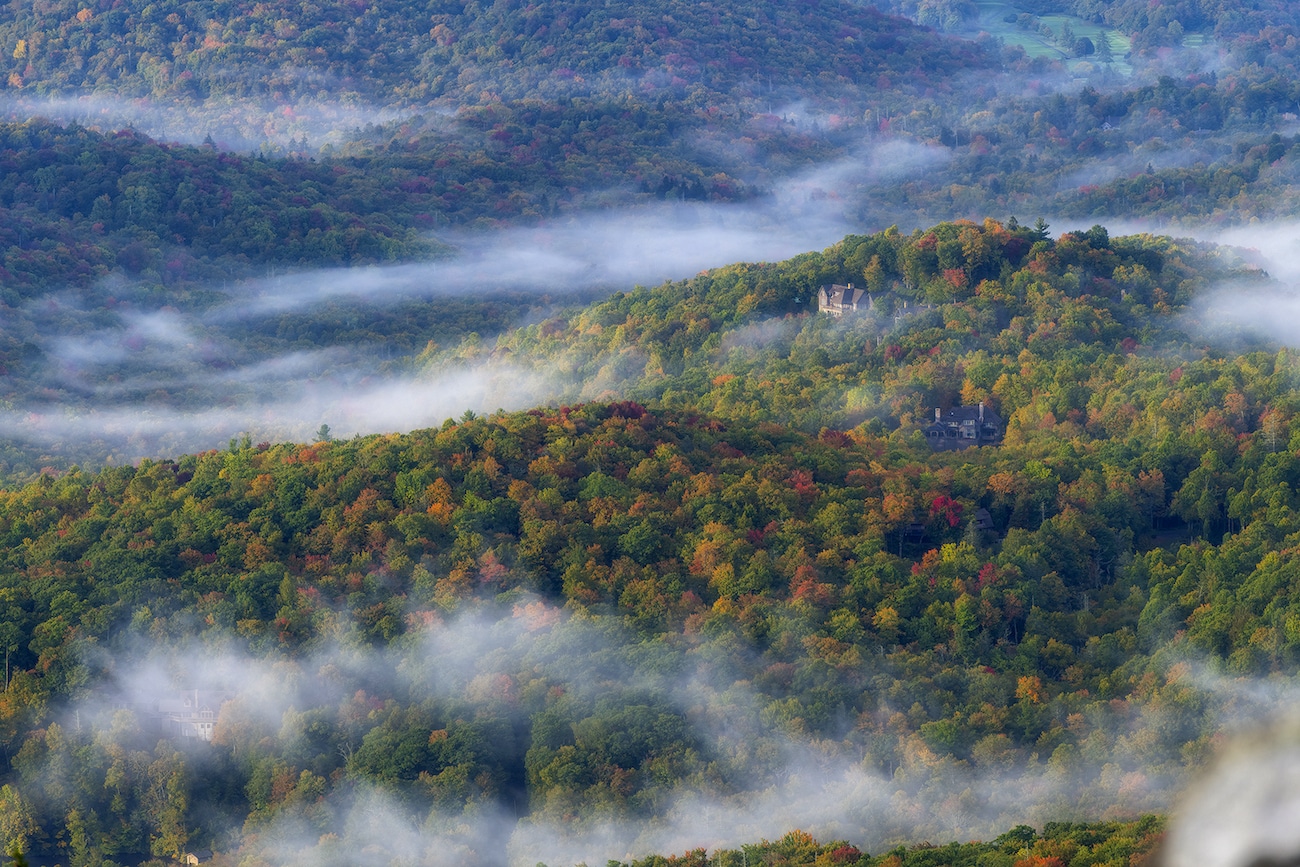 ---
While fog typically obstructs views, during autumn, it can serve as a striking contrast for vibrant fall color, as seen here near Rough Ridge on the Blue Ridge Parkway (Milepost 302.8). Color is just starting to appear along areas of the Blue Ridge Parkway 3,500 feet and under in elevation. However, as one travels along the parkway's higher elevations, such as Rough Ridge (4,773 feet), vivid fall foliage is nearly impossible to miss. Experts anticipate that this coming weekend (Oct. 9-10) could see peak color at the higher elevations of Grandfather Mountain (5,496 feet and below), with the following week and weekend offering prime fall color viewing opportunities from atop Grandfather and many Blue Ridge Parkway overlooks. Photos by Skip Sickler | Grandfather Mountain Stewardship Foundation | grandfather.com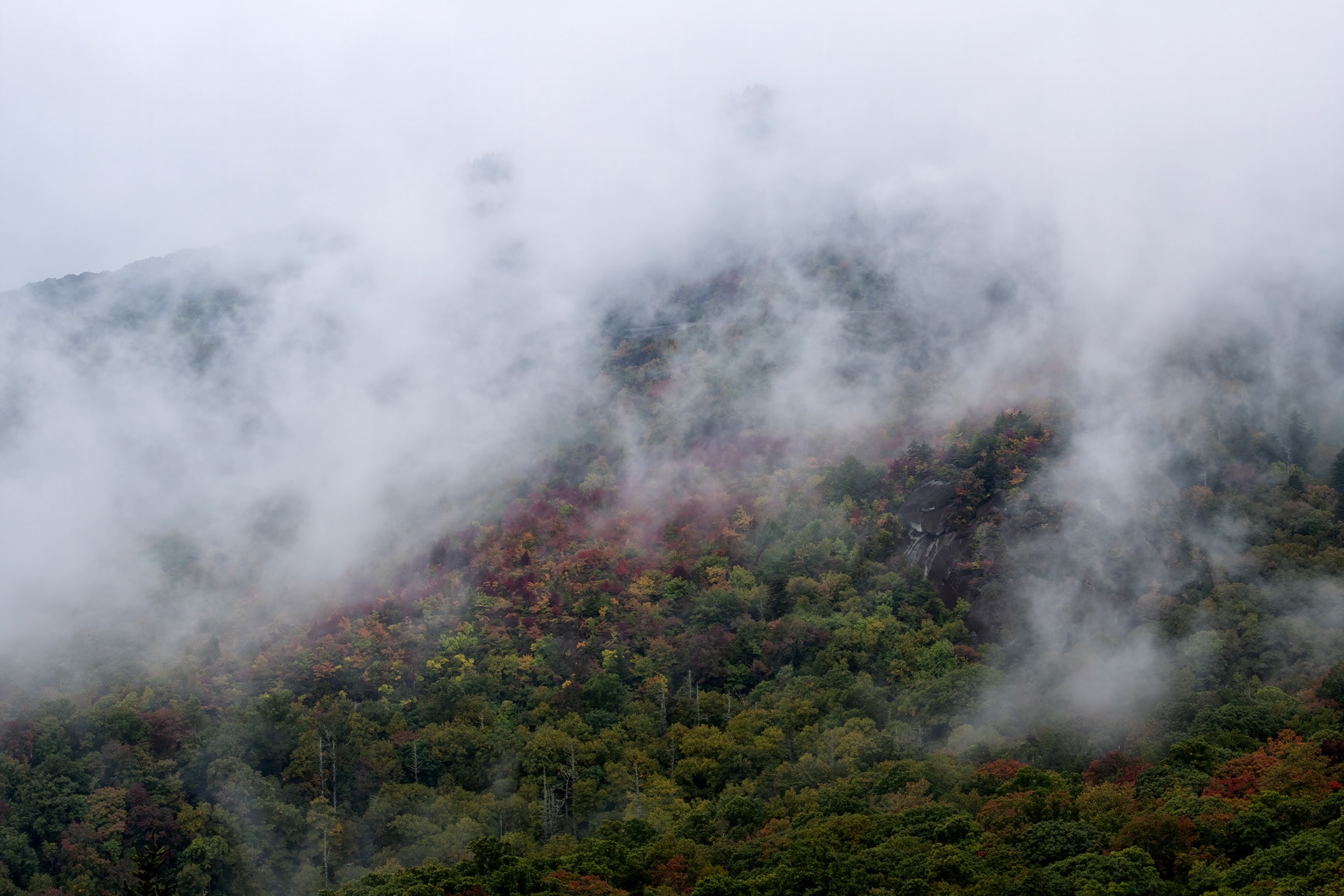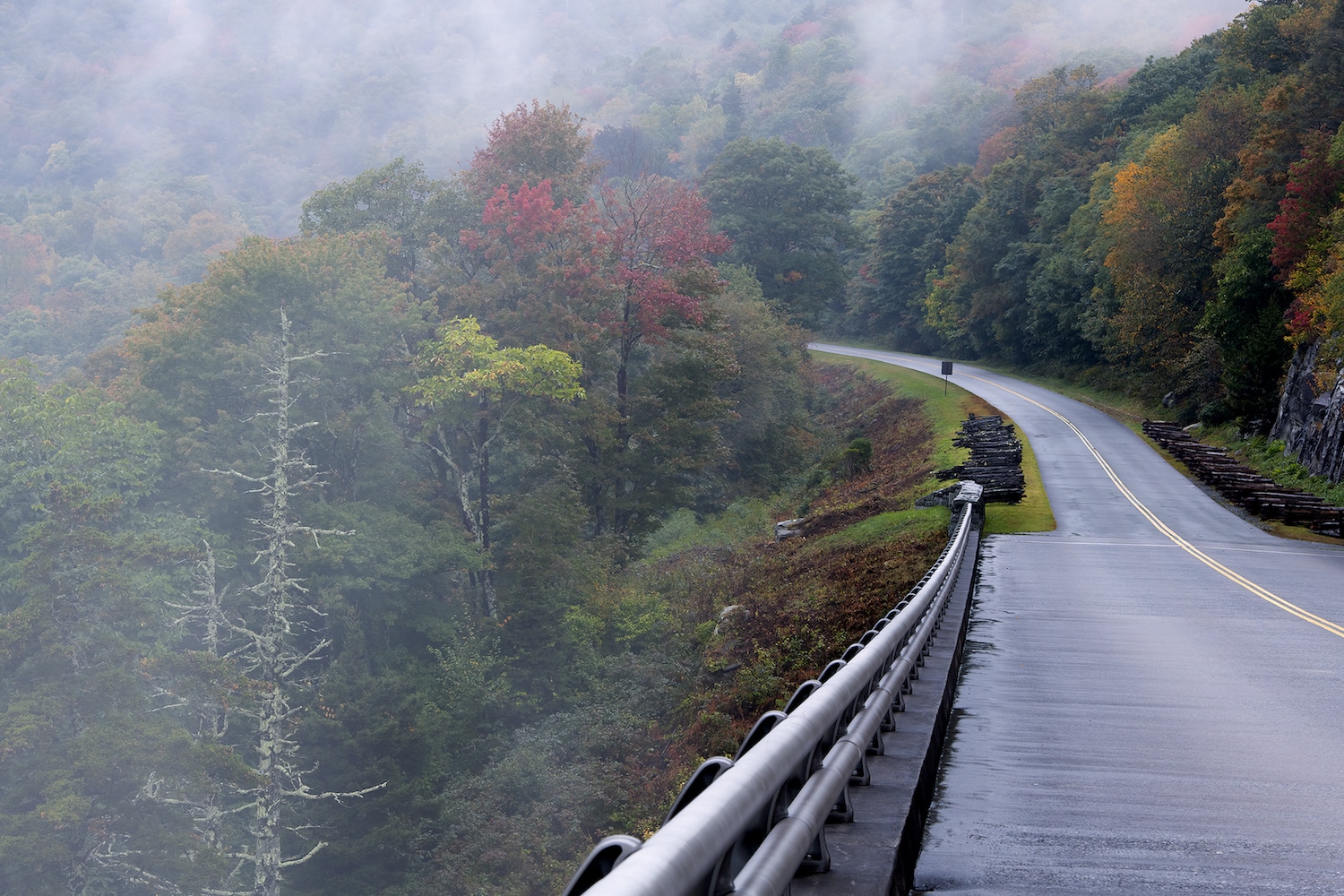 ---
Sunrise cascades over the WNC High Country, highlighting bursts of fall color appearing in the area's lower elevations, as seen from the town of Banner Elk this past Sunday. Standing more than a mile high in elevation, Grandfather Mountain in nearby Linville offers the ideal vantage point to enjoy the entirety of autumn, allowing guests to see the whole season unfold before their eyes into the valleys and foothills beyond. Photos by Todd Bush | bushphoto.com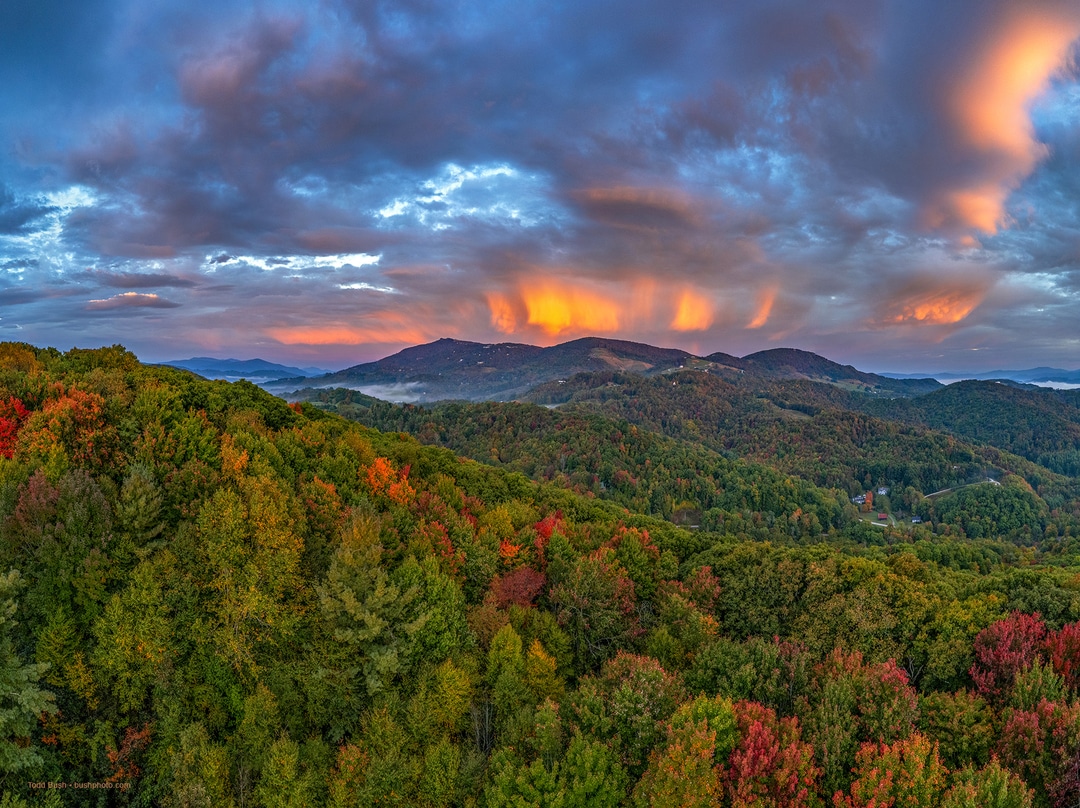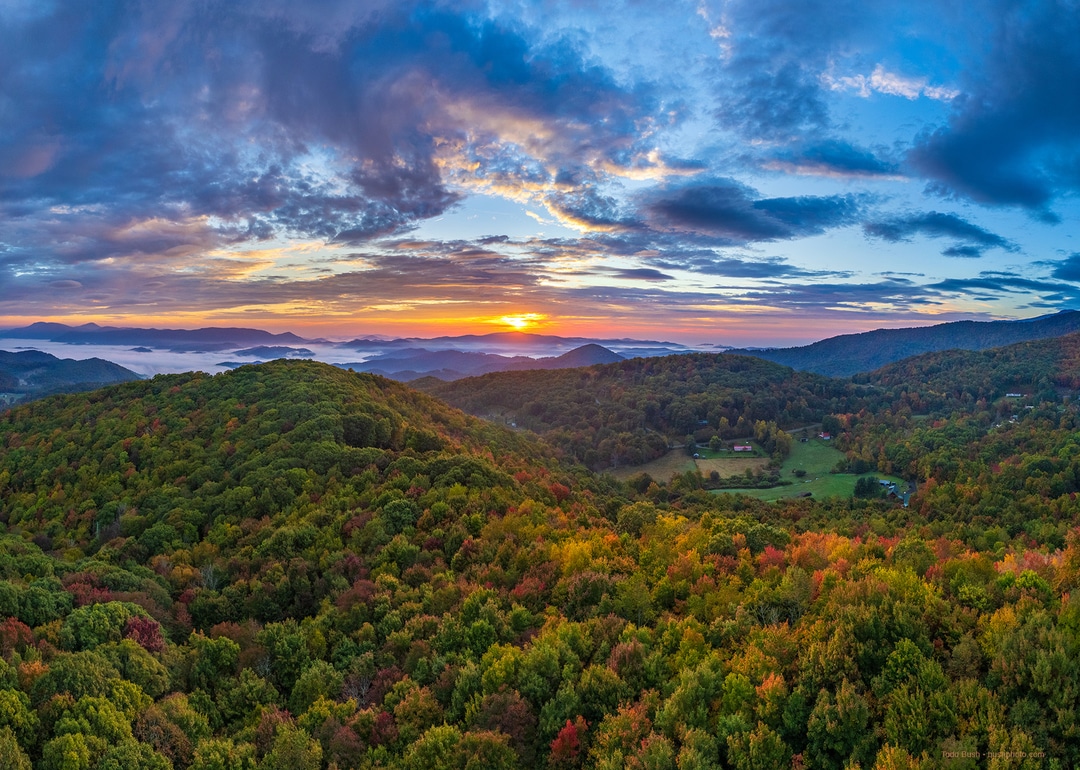 ---
For some of the sights of the fall colors over this past week visit this link – Sights of leaf weekend October 1-3, 2021
---
Fall Color Report for Week of October 3, 2021
went out before the rains moved in today and went north onto the Blue Ridge Parkway from US 421. It was hazy out, but on occasion, the sun broke through and there was some color to see in places, but for the most part, the dominant color is still green in this area. The BRP in this region ranges mostly between 3,100' to 3,500' in elevation, and at these elevations, colors are just starting.
If you go south on the BRP toward Linville and Grandfather Mountain, colors are somewhat further along at the higher elevations, especially in the Rough Ridge area and the east flank of Grandfather. Same for the high elevations at Elk Knob State Park north of Boone. I've also seen reports (and photos!) that Graveyards is at or near peak now, and I suspect, so will be Craggy Gardens, just north of Asheville. I will check out some of these areas next week.
As for my drive today, I headed up to Doughton Park, the largest park on the BRP and went straight to the old hotel and picnic area (take a right at the intersection by the visitor center). By the way, the restaurant next to the visitor center, which hadbeen closed for some time, is now open and serving customers. You can sit inside or out and I hear the food quality is very good (see a very nice review in the latest issue of Our State Magazine).
If you take the left fork on the road to the hotel you will dead-end in a parking lot. At the end is a trailhead, and you can either take a long and downward hike (which means you have to come up it on the way back!), or a very short walk of just a few hundred feet to a stone overlook with tremendous views. Right below the overlook is a cabin in Basin Creek Cove that was occupied in the early 20th century by a couple, Martin and Janie Caudill, who raised 14 children in that small cabin – that must have been something!). It is 1,500' below the overlook to the cabin, so the drop off here is quite impressive. The view is northward and on a clear day, you can see Pilot Mountain, or, you can see forever, and ever, and ever (I like that song!).
Today, there was just a hint of color on some hillsides, but for the most part, the forests are still quite green. I don't think peak color will hit this area for another 10-14 days. There are isolated trees with great color, but they are scattered and far and few between. There are nice wildflowers in bloom or seed, including asters, goldenrods, clematis, milkweeds, and witch hazel, a shrub that strangely blooms in the fall.
I saw lots and lots of monarchs flying around on my hike today. More than in past years. They preferred the asters and I saw this at several stops on my drive today. These insects may be headed for the endangered species list because their native habitat and food plants here in the U.S. are being depleted, and in their overwintering grounds, in just one forest in Mexico, the threat of logging could wipe out large numbers of the main migrating population. We need to do more to preserve this iconic species on the landscape. Planting native wildflowers in your gardens is one way, and avoiding overuse of pesticides is another. You do want your children to see this majestic butterfly when they grow up, right?
Doughton Park has a number of good hikes of varying difficulty and length, and many provide you with good views. A few more miles to the north, you get to Cumberland Knob, where the BRP first started back in the 1930s. There is a nice picnic area and some good hikes there too. Just 4 miles north of the entrance to the BRP off of US 421 is the Cascades Falls picnic area. There are good views here too, plus a nice 1 mile easy loop trail to a waterfall. There are restroom facilities too.
At the intersection of Phillips Gap Road and the BRP, on the left as you head north, is a farmer (sorry, I don't know his/her name) with a very large pumpkin patch. So, if you have kids, you might head up that way and check out those very large, orange things! Closer to home in Boone, the Appalachian State University campus has numerous trees in various stages of fall color display, so a walk around the campus will reward you with some nice views.
We are supposed to have rain all this week, up to 5" total over 5-6 days. It may not be raining all day each day. The weekend though, is looking good, so Oct 9 and 10 should be fine for fall color viewing and colors should be peaking then at the higher elevations and showing up better lower down. Once this low-pressure system moves out, I think we are in for a good fall foliage display this year.
---
Fall Color Report for the Week of September 26, 2021
Since fall leaf color starts first at the higher elevations and then works its way downslope about 1000' every 7-10 days, I decided to hike to the top of Elk Knob State Park, which is about 10 miles north of Boone with a summit at around 5,500'. I highly recommend this hike – 2 miles on switchbacks to the top, with an easy grade all the way up. At the summit, there are two overlooks, one facing south where you can see Grandfather Mt. as well as Mt. Mitchell and Roan Mt. The other overlook faces north into Ashe County and you can get great views of color from that overlook, as well being able to see the second tallest mountain in Virginia, Whitetop Mt. Mt. Rogers is not too far away either, and on a really clear day, you can see Pilot Mountain. Get there early though. I was the first person there yesterday and when I arrived back at my car around 12:30 pm, the parking lot was overflowing.
Fall colors have just started appearing now in the High Country. The forest below the north-facing overlook always has great color, even in bad years, and I was able to notice the beginnings of color on the slopes yesterday. Colors will progress rapidly now and it seems the weather is cooperating – it was 39F the other morning here, with a high only in the low 60s, and with absolutely clear, blue skies. These are the perfect conditions for a good fall color display.
The hike up Elk Knob has a number of interesting plants to observe. My favorite is the hobblebush, a native viburnum species, whose leaves turn a reddish-purple, but in a highly stochastic pattern. Sometimes one side of a leaf will be red, while the other is still perfectly green. Sometimes the red/purple develops in what seems like randomly placed splotches all over the surface. Eventually, the leaf turns completely red/purple. Because most of its neighboring plants are still green, these colorful leaves show up dramatically in the forest understory. The best time to see this plant is NOW and for the next two weeks. I have posted pictures of this species, plus others I saw yesterday.
Most of the forests in the area are still green at lower elevations. Mountain ash, which only grow above 3,500' usually, and are common even higher up, are fruiting nicely this year (last year was a bad year for them). These fruits are initially an orange color, but when ripe turn a bright red that contrasts sharply against an azure, cloudless sky. There are some really nice ones adjacent to the north overlook on Elk Knob.
Elk Knob has a lot of beech trees and these form dense stands along the trail. Once you get to the top, the weather is so severe that the trees up there are much shorter (only about 6-8' tall). At lower elevations, there is a mixture of maple, beech, birch that give rise to great color in mid-October.
As for other sites in Western NC this week, most are still quite green. But over the next two weekends I expect more and more color to develop. We're supposed to get another cold front in about a week, and that should spur the colors on. To avoid crowds, get out early, go during the week, and take some back roads instead of just the Parkway. Don't forget Roan Mountain, on the NC/TN border, about 45 miles from Boone. Great hiking on the Appalachian Trail, and beautiful views of color from the top. Now would be good times to visit the high elevation sites such as Craggy Gardens and Graveyards, as they always color up early.
Next week I'll head toward Asheville to check out the colors down in that neck of the woods.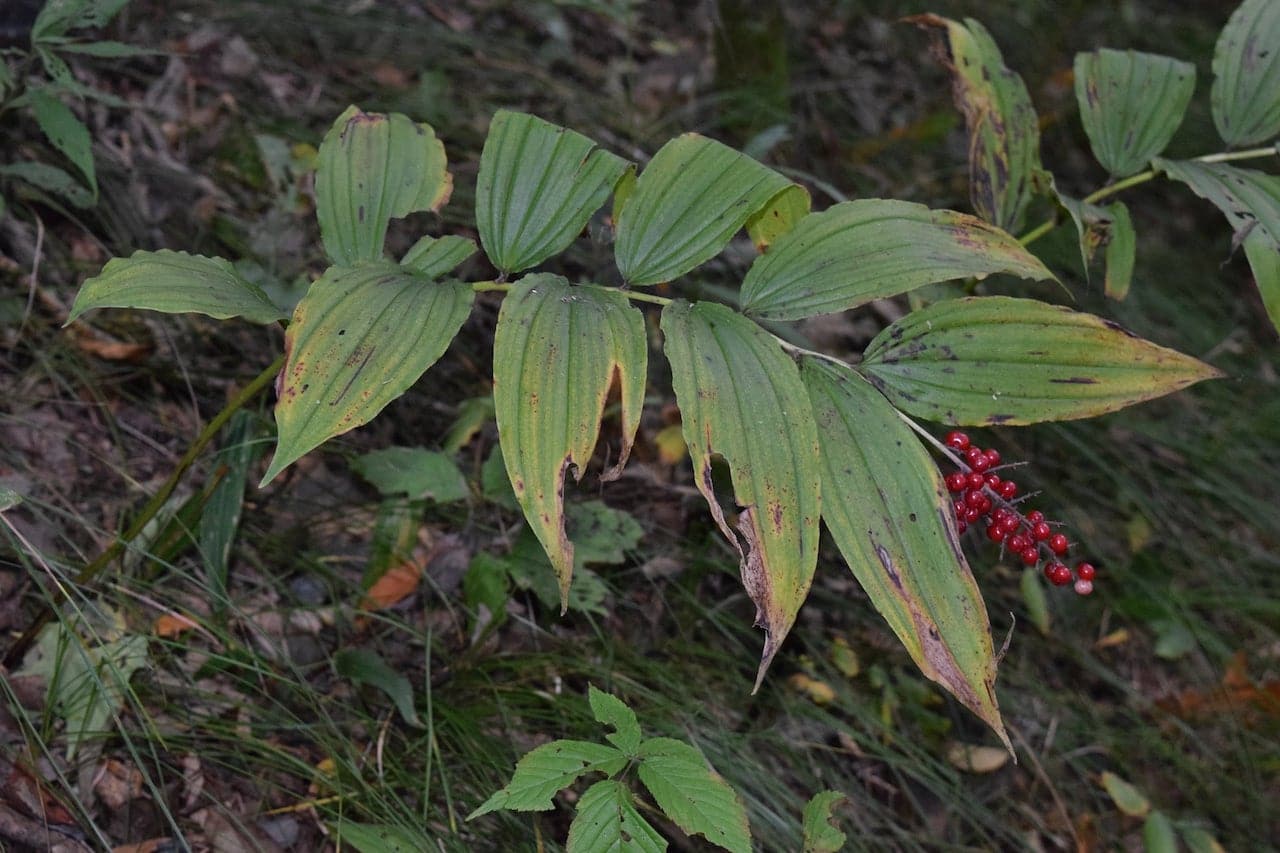 ---
Fall Color Report for Week of September 12th
The word is: green! Nearly all of the western mountains are still quite green. There is a hint of color on the way, with red and sugar maples starting to show some color on isolated branches and branch tips. Dogwoods have been turning red since mid-August, and sourwoods are coloring up now. Pin cherry (Prunus pensylvanica) leaves are turning a deep orange-red and dropping early now.
This week I ventured up Grandfather Mountain just south of Boone and Blowing Rock. This isolated mountain in the Blue Ridge is the highest in the area, with Mt. Mitchell, about 60 miles south, the highest peak in eastern North America. Since colors turn first at higher elevations, I thought it prudent to scout out what was happening on this peak. The answer: not much yet. A few trees, as noted in the previous paragraph, are turning, but the majority of trees are still quite green. There are many wildflowers blooming right now, so for you wildflower enthusiasts, this is a good time to catch the last of the lot before it gets cold.
The weather has been cooperating lately. We've had clear blue skies, cool, crisp mornings, and no rain to speak of. If these conditions keep up through September, then we are heading for a good fall color season. But what happens in the next three weeks is critical. If it is warm and/or rainy, expect the peak colors, especially reds, to be duller and later occurring. If cool and sunny, expect brighter colors that will be on time. On time means between Oct. 10th-20th here in the southern Appalachians of NC. A week earlier at higher elevations, and a week later at lower ones.
---
Fall Color Report for the Week of August 29th – 2021
We are now about six weeks away from what should be peak fall color along the Blue Ridge Parkway in the Southern Appalachian Mountains, at elevations between 3,000-4,500'. Right now, the forests are mostly still green, although after my excursion today on the Parkway, I did see scattered instances of trees starting to turn color. These trees seem ahead of schedule compared to past years, but I don't think fall color will be unusually early this year.
I drove the BRP between Blowing Rock and the Linn Cove Viaduct today. This section is one of the most popular parts of the Parkway, so when we near peak color, you may want to schedule your visit for a weekday and early in the morning, when the crowds are smaller. Also, if you are driving the BRP, you'll get the best lighting for pictures early in the morning. If you wait until midday, the colors will look washed out, and if you try to take pictures late in the day, you'll need to face north because the sun will be to the south, and most of the overlooks in this section face south.
So which trees are showing color already? Red maples are turning color now, mostly at the tips of branches. You can see some of this in the attached photos. This was particularly noticeable near Grandfather Mountain and the Linn Cove Viaduct. Mountain Ash trees along the boardwalk on the Rough Ridge Trail have nicely colored berries that currently vary from yellow to orange to red. By October, these will all be bright red, and stand out against the somewhat dull foliage of this tree. Sourwoods are fruiting now (making seeds) which hang down in white sprays over the green leaves. By October, the leaves will have turned a deep red, which will further highlight these white seeds, making this one of the more spectacular trees to see this fall. A few sassafras have begun to exhibit leaf color, and on the same tree one can often find all color of leaves, ranging from green, to yellow, to orange and finally to red. Finally, a few ash trees have just started to turn color. Leaves on these trees become deep purple in color and ash trees are among the first to color up in the fall.
For those new to this site, I'll be posting weekly updates, usually by Thursday of each week, so you have time to decide if you want to come up for the weekend. So far, we are in good shape with regard to the upcoming fall color season. We are not in a drought situation, we haven't had unusually extreme temperatures, and the trees are looking good after a fairly mild summer. I predict that if the weather continues to behave (and I have had some long discussions with Mother Nature about this!), we should have an excellent fall color season this year. What happens in mid- to late-September and the first two weeks of October will be crucial. If unusually warm or rainy, expect duller colors and a later peak. If cool and sunny, then expect on-time peak color and brighter colors. For the elevational range between 3,000-4,500', that would be mid-October. For higher elevations, the first week of October, and below 3,000', the last week of October. For those in the Piedmont, where you are at 700' elevation, you can expect colors well into November.
Happy Fall Color Season!
---
Fall Color Report for the Week of August 8th, 2021
This is the first of my fall color reports for 2021. Of course, starting off in August there isn't a lot of color development yet, but there are some isolated cases among urban trees, which always begin changing color before trees in the woods. In particular, urban red maples, dogwoods and sourwoods, as well as some stressed sugar maples are coloring up now, but don't panic, as the major fall color display will still occur in mid-October.
My graduate student, Claire Martin, is studying how urban red maples, including the Armstrong and Autumn Blaze cultivars, develop their fall colors, especially with regard to where in the canopy colors first appear. For the Armstrong cultivar, past years indicate that color develops all over the canopy at approximately the same time, whereas for the Autumn Blaze cultivar, there is distinct development in the upper canopy first, with lower leaves coloring up afterwards. We are trying to figure out why this cultivar does that and whether it is because the weather is different in the upper crown, or the leaves differ there, or both. In the attached photograph, you can see Claire taking measurements of photosynthesis in a bucket truck some 25 feet up a red maple. The Autumn Blaze cultivar started showing red leaves the first week in August, which is somewhat early, if I recall past years correctly.
I've seen sourwood trees starting to turn color this week, and dogwoods have been turning since mid-July. They develop their fall colors slowly and incrementally over a 6-8 week period. I've included a progression of color development for the dogwood trees that are growing across the road from my house.
Another of my students, Bubba Pfeffer, who recently graduated from Appalachian State University, has been digitizing images of trees to learn more about their phenology (the science of when organisms go through distinct phases of their life cycle, such as leafing out, coloring, and dropping leaves). We have a camera that takes digital images of the same forest every day and we have now accumulated five years of data. Bubba is in the process of analyzing when the trees green up and when they lose leaves, and how long the fall color periods last. We have found some differences among the years in the timing of these events and we are now trying to figure out what aspects of the weather have the most influence on them. Once we're done we'll post our results for you to see.
Finally, a New York Times article allows readers to find out how many days of the year the temperature gets above 90 degrees Fahrenheit, from 1960 to 2018. In 1960, Boone averaged only 3 days over 90 degrees, but the trend over the past 58 years has been inexorably upward to the point that we now average 9 days over 90 degrees each year, a three-fold increase. That is alarming, but goes along with the dire predictions just released this week by the International Governmental Panel on Climate Change (IPCC), which unequivocally states that human activities have warmed the Earth and that unless actions are taken immediately, we will have no chance to avoid significant warming in the future, often to levels that will have catastrophic effects on countries.
It is definitely a wake-up call. I mention this because warming is the single most important variable affecting fall leaf color displays, both with regards to timing and intensity. Warmer years result in delayed onset of color, as well as a reduced intensity of color, particularly the reds, and will diminish the quality of the display compared to past years. Last year was a throwback to earlier years in that the colors were back on time (mid-October) and they were vibrant and quite beautiful.
So far this year, the weather in the High Country has been fairly mild, with no long-term dry periods and there is lush tree growth everywhere. The first week of August this year we had morning temperatures in the low 50s and highs only in the mid-70s, which is quite remarkable. It will be warmer this week, but if this trend continues into the fall, we should be setting up for a good fall color season. What happens in September will be crucial!
So, welcome back. I hope everyone has had a good summer. Schools have already started and others will be back in the next few weeks. It's super busy here in Boone as the students are now moving into the dorms and off-campus apartments. Classes start here on Monday, August 16th. If you're coming to the High Country, most trails and roads are fully open. To avoid the crowds, get out early or come during the middle of the week. If you want to go to Grandfather Mountain be aware that you need to make reservations online first.
Ciao!
---
August 11, 2021 from Dr. Neufeld – A sugar maple on the Appalachian State University campus coloring up quite early. I think this is partly due to the stress of growing in this particular location and the fact that this tree may have a more northerly origin. When such trees are planted in the south, they turn colors earlier than the same species that is indigenous to the area. The shorter daylengths fool the northern tree into thinking it is later in the fall than it really is. This means they are not cueing in on temperature, but rather, on daylength.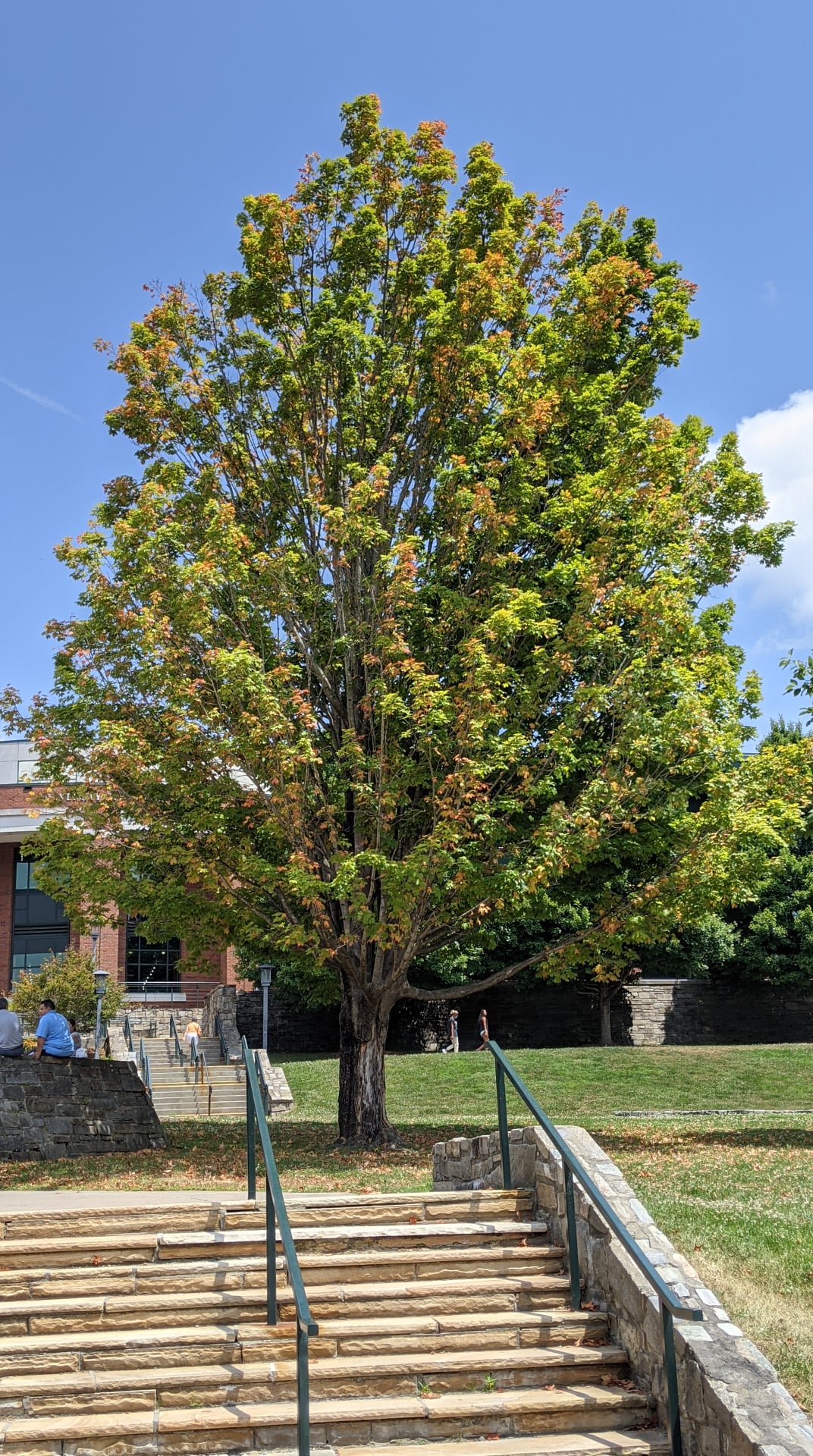 August 11, 2021 from Dr. Neufeld – The progression of color change from May to Aug for flowering dogwoods in Vilas, NC.