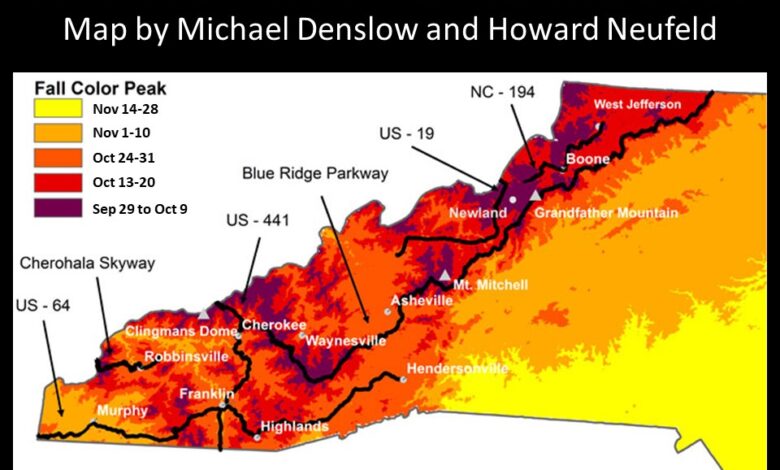 Fall Color Peak Map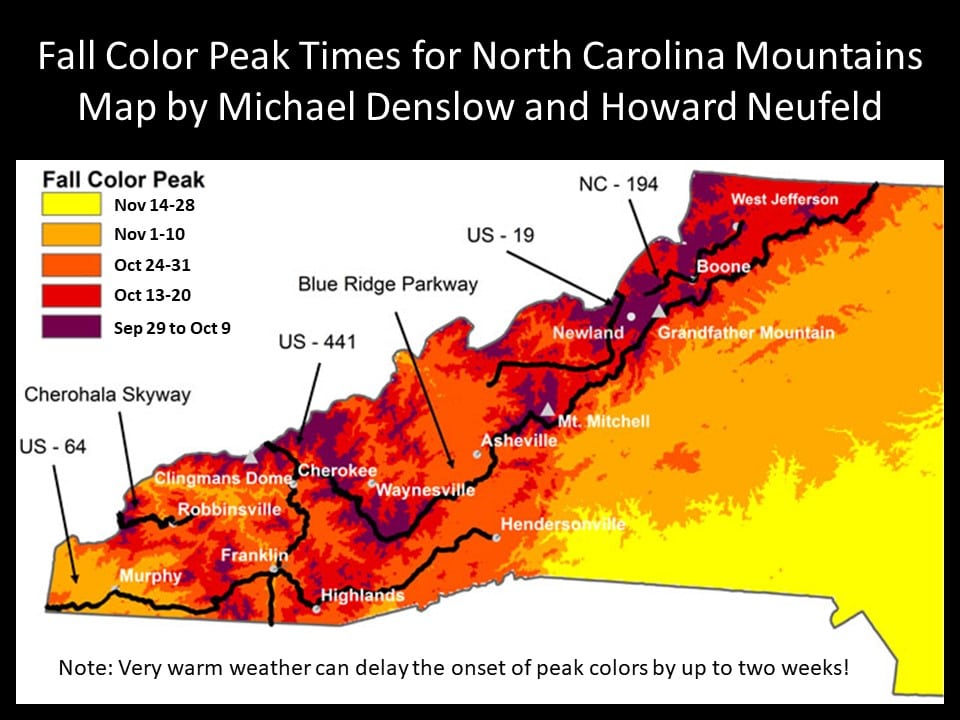 ---
2022 Updates
For the 11th year in a row WataugaOnline.com is teaming up with Dr. Howard Neufeld, Professor of Plant Eco-physiology at Appalachian State University, better known as The Fall Color Guy to provide information as the colors start changing. For reports from previous years click here.
Dr. Neufeld shared some thoughts just before previous fall seasons that are still relevant for this or any fall season:
As for wet weather, there have been some publications on the impacts of weather on fall color (especially timing, not so much quality). Precipitation has only minor effects on timing in the fall. Temperature is more important. So, at this point, I don't see anything to make me think that fall colors will be adversely affected, either in timing or quality.
What happens in mid- to late August and in September, temperature-wise, will be more important, especially for quality (notably the intensity of the red colors)".
People think fall colors are good when they last a long time, and have plenty of brilliant reds interspersed with the oranges and yellows. So, the quality will depend on how much "redness" we have this fall.
Trees tend to make more red colors (anthocyanins) in the fall when it's cool and sunny, and if we have a slight but not severe drought.
Sunny days means more photosynthesis, and more sugars produced in the leaves, and sugars induce anthocyanin production.
A slight drought impairs uptake of nitrogen (we think) and some experiments suggest that plants low on N make more anthocyanins.
Usually, fall colors peak around Oct 11-14 in the Boone area; sooner by a few days up to a week at higher elevations, later at lower ones. Nice colors can stick around for a week or more, although the peak usually comes and goes in just a few days, weather permitting (no high winds for example)".
---
---
Fall Color Report for the Week of October 31, 2022
My wife and I took a trip down to Charlotte on Saturday to see our daughter and her fiancé, not to mention their two dogs (Hank and Layla). We also had a very nice brunch at a fine French restaurant in downtown Charlotte. On the way down we noted the state of the fall colors and I was pleasantly surprised by how vibrant they were just outside of Blowing Rock and nearly all the way down to Lenoir on either side of US 321. It was very overcast as we drove down, so the colors didn't jump out at you as they would if it were sunnier, but believe me, they were great!
The best fall colors have now moved off the mountain to the foothills, but we were also pleased to see vibrant colors in Charlotte too, especially in and around the Plaza-Midwood section, which has wonderfully old and stately trees and nice walking paths throughout. The peak of color hasn't quite reached Charlotte yet, but there is plenty as you walk around, and some trees are even past their peak, while others are still either green, or halfway toward their peak.
Charlotte has a lot of red and sugar maples planted along the streets and the different varieties turn a range of colors, from bright yellow sugar maples, to orange, to deep red maples with bright red leaves, and the entire range in between. Many of the oaks in Charlotte are willow oaks, and they mainly turn brown, although there can be a tinge of yellow right before they drop. There was one tree we saw with compound red leaves that has me stumped as to its identity, so if anyone knows what it is, please let me know. Overall, it's a beautiful time of the year in the city and you can see some spectacular color right outside your home.
In some sections of Charlotte, leaves may persist until Thanksgiving, although I think that most of the colors will be gone by then, with just a few isolated trees showing off at that time. State parks in and around Charlotte are coloring up now, so if you get out to Kings Mt or Crowder's Mt in the next week you should have good viewing.
We are approaching the end of my reports for this season, aalthough I may do one more next week. But because colors were on time this year the season is coming to end in the High Country, about two weeks earlier than in previous years. Have a great week!
---
Thursday, October 27, 2022
As I've said recently, fall colors are on the wane here in the High Country (not absent, but noticeably past peak). However, I've just spoken with people at several lower elevation state parks about their fall colors and here's a summary of those discussions:
Stone Mt. State Park at Roaring Gap, NC: They are at peak NOW and the colors are stupendous this year (first time I've used that adjective!). So, if you can, head out to this park this weekend. If you can't make it this weekend, the coming week will still be good, and even next weekend, although by then they will be slightly passed their peak (but still worth a visit!). A ~1 mile hike takes you up to the top of large rock outcrops with great fall foliage views. There is also a beautiful waterfall that you can visit along the way. I highly recommend this park and there are no entrance fees.
Chimney Rock State Park, Chimney Rock, NC: colors are showing up nicely there but are not yet at peak. However, a trip this weekend, or next week into the following weekend would be enjoyable. Colors may peak in about 10 days there, but are good now. They do charge an entry fee. It is a spectacular park and Last of the Mohicans was filmed there!
Gorges State Park in Sapphire, NC: this park, located at about 1,900′ elevation, should have foliage colors in about the same state as Chimney Rock. There are nice hikes throughout and Rainbow Falls is worth the hike. One of the falls in the park cascades over 800′ down and is the tallest in the eastern United States. This is a relatively new state park, but highly recommended.
Crowders Mt State Park and Kings Mt Park, south of Charlotte, near Gastonia: both parks are approaching peak colors, but are not yet there. But a hike to either this weekend or in the coming week, including the following weekend, would be ideal if you want to stay close yet see great fall color. And one might also try Lake Norman State Park, about which I know very little, but I suspect they will get to good color in about 10-14 days.
Lastly, don't forget Daniel Stowe Botanical Gardens west and south of Charlotte. They have displays of fall foliage and flowers, plus greenhouses and walking paths. It is a botanical gem in the growing suburban area of Charlotte. There is an entrance fee charged.
Hope this has got your juices flowing for a fall foliage expedition this weekend or next!
---
Fall Color Report for Week of October 16, 2022
This morning, not bright, but early, I headed out toward Doughton Park, which is on the northern section of the Blue Ridge Parkway about 30 miles north of US 421. A front is moving in and the skies were clouded up, with the sun peeking through some breaks early in the morning. It is now overcast over most of the High Country. This is a less popular section of the Parkway, but it has rewarding views, great hiking trails, as well as numerous picnic areas. I highly recommend it, especially because it is peaking right now and will provide some good views for this week.
Do note that they are repairing a bridge on this section of the Parkway, so right after the Trading Store on the Parkway it is closed to all traffic. They do have a nicely signed detour to get around this section, which is about 20 miles long, but it's well marked and I had no problem following the signs to get back on the Parkway going north. If you are coming up from Winston-Salem on US 421, I'd suggest you veer off near Wilkesboro and take Rt. 18 up to the Parkway. It will put you on to the Parkway just a few miles south of Doughton Park and you'll avoid the long detour if you get on the Parkway where it crosses US 421 in Watauga County.
By the way, Google maps will route you up I-77 off of US 421 to Roaring Gap, but I suggest you stay on US 421 to Wilkesboro and take Rt. 18 N to the Parkway. It is a pretty drive, with good foliage over the last 5-8 miles as you climb in elevation and less of a hassle (I wouldn't want to get on I-77). Distance-wise it is 81 miles from Winston-Salem if you take Rt. 18 and about the same if you take the I-77 route.
Once you get to the Parkway, you can only head north so stop off at the Visitor Center to find out about hiking and other places to visit. There is a small restaurant there (not sure how much longer it will be open for the season) so you can get lunch if you want. If you turn right instead of left at the visitor center, you can follow that road to a large picnic area. When you get to the fork, veer left, and it will take you past an abandoned motel and then dead end shortly thereafter in a parking lot filled with cement picnic tables for some reason! Take the short walk up from the parking lot toward the water tower to the overlooks and you'll be able to see great views (even Pilot Mountain on a good day).
Look straight down and you'll see a cabin that was once occupied by a family at the turn of the 20th century. I've posted the sign that explains who lived there. Last time I wrote about this, a descendant of the people who lived there wrote back to let me know the family is still around in the area.
Then, get back in your car and go to the fork and take it to the end where you can park. Take the Bluff Mountain Trail from the parking lot through the old field – it is only 0.2 miles long and it will take you to some nice rock outcrops where you'll have more great views. You can also get this trail off the Parkway and hike up (maybe a mile or two) or, you could hike down to the Parkway from the top. It's a very nice trail, but of course, if you do that, you'd have to reverse hike to get back to your car.
As you approach the top of Bluff Mt, there is a trail that goes off to the left to a shelter and it has a nice view plus you walk through mountain laurel and forest to get to it. Very nice place to just sit and take in the peaceful nature of this place.
You can also hike to the picnic area from the overlook I first described above if you want. It takes you though high elevation mountain meadows and is a very easy hike. Also highly recommended.
Colors are looking great on this section of the Parkway. I got on at US 421 and headed north until I had to detour. There are some great overlooks on this part but it is also a more rural and pastoral landscape (farms, some houses, etc.) and when you get to Jeffress Park, just a few miles up the road, there is a picnic area on the right which also has a short 1-mile loop trail you can take. This is a very easy hike, parts of which are paved, and if you take the fork on the right, it will drop you down to an overlook and you'll be adjacent to a nice waterfall. I highly recommend this little trail.
Then, if you get on the Parkway where I did and want to go to Doughton Park, you'll have to detour off the Parkway onto country roads and highways until it brings you back where Rt. 18 crosses over. This takes you through rural Ashe and Allegheny counties, and the drive is quite pleasant, part of which is adjacent to the New River. There is a rafting company (Zaloos) that hosts river outings there.
Today was cloudy as a front is moving in which will bring our coldest weather of the fall so far. Temperatures in Boone might drop as low as 20 F with highs only in the 40s by Tuesday. This may cause significant leaf drop, especially if we get strong rains tonight as predicted and this will take down a significant number of leaves.
Leaves started falling in droves last Wednesday, so the Parkway around the Linn Cove Viaduct is getting past its peak, but colors lower downslope are reaching their peak. Most other high elevation areas are now moving past peak, but they still have good color. Elevations lower down are rapidly coloring up, so it's still worth a drive up here if you want to see some good color. This has been one of our best fall color seasons in years.
If you get up to this area this week, you'll still have significant colors to see, especially on this northern section of the Parkway. I also recommend a visit to Mt. Jefferson State Natural Area right outside West Jefferson in Ashe County. You can drive all the way to the top and then take the 1-mile loop trail with great views at the end.
That's the update for this week. Similar conditions can be found down to Highlands, which is on nearly the same fall foliage schedule as Boone. People have been sending in photos from the Smokies and colors there are picking up nicely too. So, if you can get out this week, you should have a great experience. I'll let you know what happens to the leaves after this week's rain and cold.
Ciao!
---
---
Fall Color Report for the Week of October 9, 2022
Today was one of the most spectacular fall color days we have had in the High Country in several years. The weather was perfect, starting off with temperatures in the mid-30s and only getting to the mid-50s, with clear blue skies. I'll say up front that we are at peak color above 3,000' elevation in the Blowing Rock to Chestoa overlook section of the Blue Ridge Parkway. Colors will continue looking good through to next weekend, although there is a forecast for rain and possible thunderstorms on Thursday. If that happens, we may lose some leaves for next weekend, but hopefully they will be scattered and most areas will retain their leaves.
The red colors, where they are abundant, are very vibrant this year, a result of the cooler weather we saw in mid- to late September which, fortunately, persisted into October. It also helped that we had mostly sunny skies too. Those are the ideal conditions for having bright fall colors and for the fall color season to be on time, which it is this year. In fact, I would say it's a few days ahead of normal.
There is still green at or below 3,000' elevation, but colors can be seen all the way down to 2,000' and a couple I met on the trail today told me that colors are coming along nicely right in Asheville itself, which is a good two weeks earlier than usual.
Birch trees, which turn yellow, are especially bright this year, and large stands of them are providing great color on the hillsides now. Sugar maples are doing especially well this year, and provide an orange/yellow display that contrasts with the vivid red of red maples. Striped maples, an understory tree, are turning a bright yellow, as are American Chestnuts. Witch hazel also turn yellow, with brown stripes, and they are coloring up also and are in bloom now (one of the few woody plants to bloom in the fall). Additionally, Fraser firs are turning now, and they briefly become light green to yellow before quickly transforming over to chocolate brown. Sumacs are in peak red color as are fire cherries. Sassafras continue to turn and hickories and several oak species, especially those growing on rocky outcrops, are turning now. Hickories turn a dull yellow color, while chestnut oak turns yellow and black/red/scarlet oaks turn deep red.
Galax, one of my favorite plants, is a perennial native wildflower with thick, tough, evergreen leaves that can form large clones on the forest floor. Usually a waxy green, they turn red when exposed to high light during cold periods. For the past several years I haven't found many leaves turning red in October, due to high temperatures, but this year, I'm already seeing a number of clones with red leaves.
Based on my observations here, I suspect colors are also great down in the Highlands/Cashiers area, and along the higher elevations on the Parkway from the Smokies north to Craggy Gardens. After several years of delayed and somewhat dull fall colors, we are having one of our best years in a long time. So, if you can get out this week, come on up. If I had to pick a 24 hr period for the peakiest peak colors, I'd select this Wednesday, but in reality, all week will be at peak, and areas still a little green will quickly color up through to next weekend.
I'm going to post my pictures in batches, since I took 300+ today, some of which are the best I've ever taken (in my humble opinion). One of the reasons the pictures are so good is that I took the advice I give prospective visitors – get out early and take photos then, because when the sun is at a low angle in the sky, the color saturation is so much better than if you wait until midday.
Today I left the house at 6 am and was at the Chestoa overlook just after 7 am to catch the sun rising over Table Rock Mountain. Then, I headed north toward the Linn Cove Viaduct (I didn't have time to stop off at Linville Falls, but that would be a great stop if you come up). I stopped at Beacon Heights, which was full with people who wanted to catch the sun rise from the large rock outcrops at the summit. Then, I got back on the Parkway and headed toward the viaduct, but before getting there, I parked in the Stack Rock lot and took the hike to the rock and beyond. This is a rigorous, albeit short (0.2 miles) hike to a large rock called Stack Rock. At first, I thought, what a bummer, as there were no good views there, but then I discovered that the trail continues on beyond the rock, and there are wooden steps and a bridge to take you farther into the woods. After a bit of a hike you get to a cliff that is fenced to keep you from falling off, and from that part of the trail you can take beautiful pictures of colorful forests and Stack Rock itself. Interestingly, the trail wanders along and beneath the Linn Cove Viaduct, so you can get a very different perspective on that structure on this trail. The trail continues on for another 2.5 miles, and then you have to turn around and come back. I didn't attempt to do the entire trail today. It is a rigorous hike, with lots of roots and rocks, so it's not for the faint-hearted.
Then, back in the car, over the Viaduct and on to the Yonahlosee Overlook and then the Rough Ridge trail. Today, I hiked all the way to the top of Rough Ridge and was rewarded with great views and great fall color. If you want, there is a side trail at the top that you can take all the way back to the Linn Cove Visitor Center (about 4 miles), but if you want to do that, you should have a car at Rough Ridge and another one at the visitor center, or otherwise you going to have quite a hike back.
I stopped once again at Price Lake to see how the colors there have changed since last Tuesday, and I'm glad I did, as they were at peak condition today. My last stop was at the Cone Manor just north of Price Lake. The National Park Service has spent the last several years fixing up the manor house and it is now freshly painted and repaired and looks better than it ever has in all the 36 years I have been in the High Country. They did a great job on it. Even better, they have opened up the second floor so you can tour around and see all the bedrooms (and bathrooms!), plus the kitchen in the back on the first floor.
Those were different times when Moses Cone built the manor house (right at the turn of the 20th century). For example, white servants were housed on the third floor, where there are five bedrooms (you can't go up there though). However, African-American servants weren't allowed to stay in the manor house and the Cones provided them with two separate homes not far away, one for males, one for females. One of those houses was preserved by the NPS and now houses interns working at the place. The manor house was the first one with electric lights and it had hot and cold running water.
I did all this from 6 am to noon and back home in time for lunch! So, come on up! Some of the best color in years is peaking now!
---
Thursday October 6 – from the back of Grandfather Mountain. Photo: Lance Dotson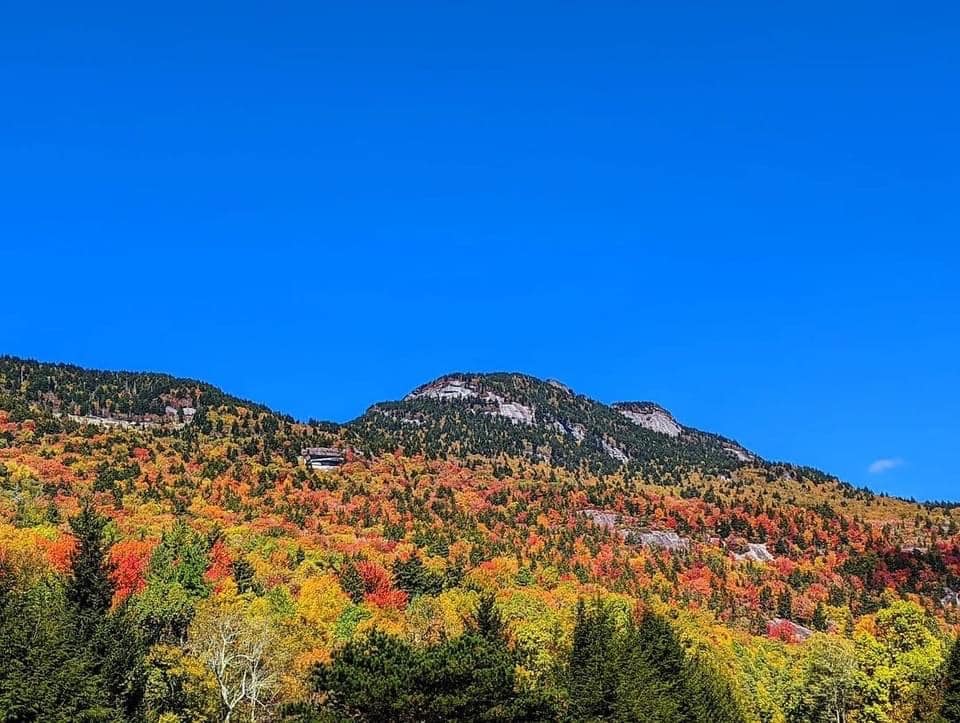 ---
Grandfather Mountain Daily Fall Color Report | Oct. 6, 2022: A particularly great spot for seeing fall color right now is outside the Wilson Center for Nature Discovery, looking up at Linville Peak. The sugar maples near the parking area and habitats have turned a mix of orange and red (as illustrated in this photo), and the striped maples on the paths to the habitats are now turning yellow. Photo by Monty Combs | Grandfather Mountain Stewardship Foundation
Though still early in the season, staff members are observing color progression each day on the mountain. The forecast through the weekend continues to call for ideal fall weather, making it a perfect time to visit Grandfather Mountain. During this busy season, booking reservations in advance online is strongly recommended.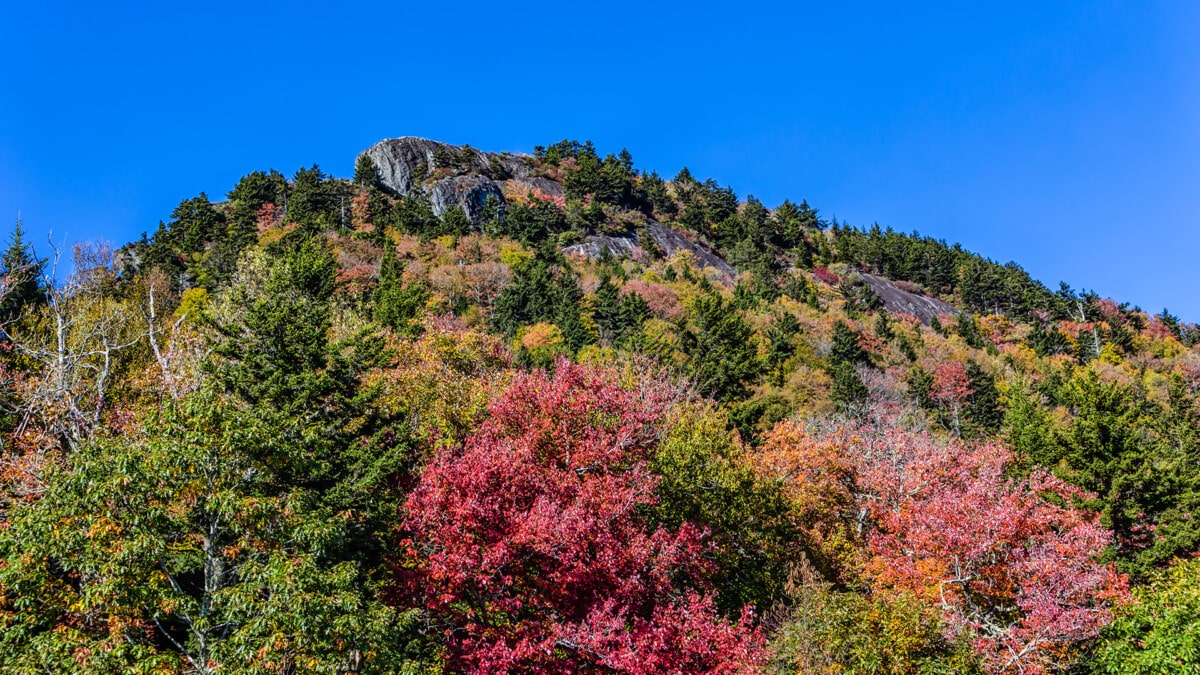 ---
Fall Color Report for the Week of October 2, 2022
This weekend I attended the wedding of my sister's daughter at the Linganore Winecellars outside of Frederick, MD. Although it was rainy and the ceremony had to be held inside, the hall they had was beautifully crafted with wood paneling and wood beams, and it felt very warm and cozy inside. We all had a great time.
Because of that trip, I didn't get to go out and scout around for fall colors until this morning. But what a morning it was – cool, in the low 40s, maybe even in the 30s, with clear blue skies and low humidity. There was valley fog, but Grandfather Mountain and the Blue Ridge Parkway were clear and stunning. I hiked the Flat Rock Trail, which faces east, and is about 4-5 miles south of Grandfather Mountain on the Parkway.
Then, I drove the Parkway north to the Beacon Heights parking lot, took some pictures, and then made my way to the Rough Ridge trailhead and hiked up to the wooden viewing platform. While there I met Skip Sickler, who takes pictures for Grandfather Mountain (I just posted one of his pictures). Skip is also an award-winning photographer and last year won 7 individual awards for his wildlife photography!
Congrats to Skip on those achievements!
Colors have progressed nicely over the last week and with this cool weather and blue, sunny skies, will continue to do so through this next week. While colors along the slopes of Grandfather are not yet at peak, they are colorful and worth viewing. By this coming weekend they should be further along, and it would be worth your while to come up if that is the only weekend you can spare. I think colors will be great from this weekend through to the next weekend (Oct 8-15). Of course, colors will persist beyond the 15th, but as time goes on, they will move downslope. But the next two weekends should be great for fall color viewing in this area.
The best colors in this region are from the Boone Fork Trailhead south to the Linn Cove Viaduct on the Parkway. Farther north, they're looking good around Price Lake, and should peak there in the next week or so.
I expect similar trends will be found around the Mt. Mitchell area and at Waterrock Knob along the Parkway, as well as north of US 421 in Doughton Park. It looks like colors will be close to ON TIME this year, mainly a result of the cool weather we've been having. Hurricane Ian didn't really impact the colors because when it came to the mountains the winds died down and the rain was fairly gentle.
So, come on up and take in the views!
---
Grandfather Mountain Daily Fall Color Report | Oct. 5, 2022: Nice pockets of fall color are developing at the highest elevations (above 4,000 feet) in the N.C. High Country, as illustrated by this image from the Rough Ridge area. An extremely popular spot in fall for long-distance views, the trail to Rough Ridge is located at Milepost 302.8 along the Blue Ridge Parkway near Grandfather Mountain.
The weather forecast for this week and weekend continues to look optimal for fall color progression and for visits to the region. "Peak" is still to come, but visitors to the area right now are seeing colorful spots along the landscape, as well as standout trees among their green-leafed neighbors. Photo by Skip Sickler | Grandfather Mountain Stewardship Foundation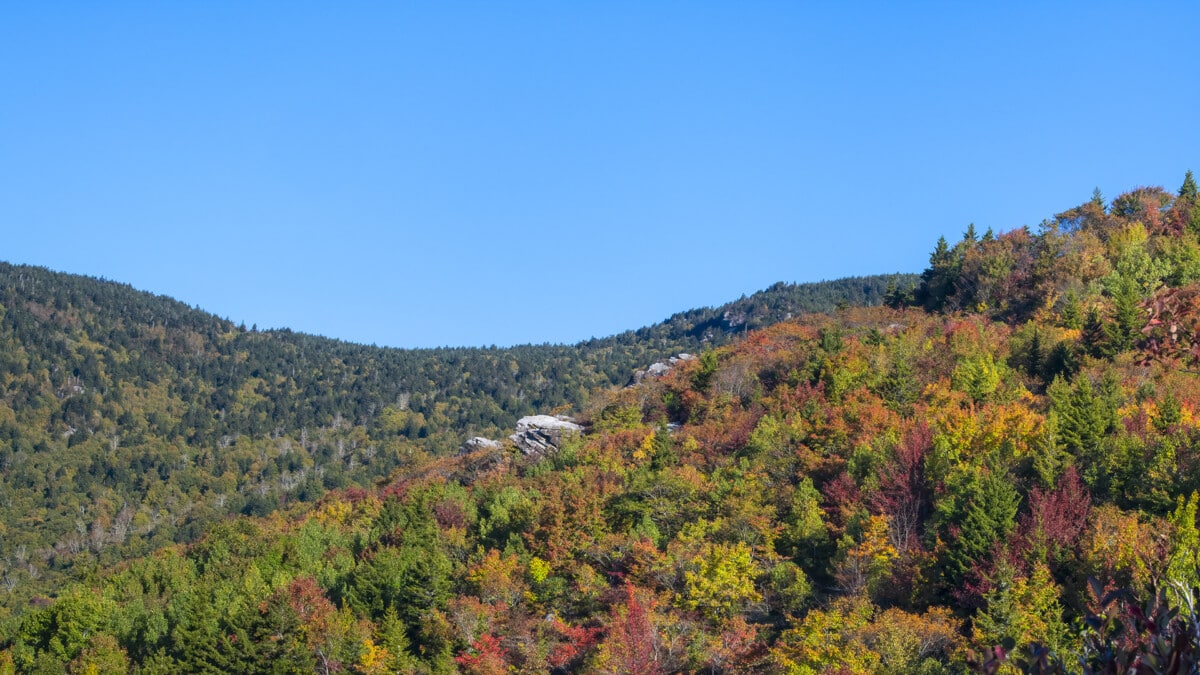 ---
Grandfather Mountain Daily Fall Color Report | Oct. 4, 2022: Today's photo was taken at the top of Grandfather Mountain, near the Top Shop parking area. Typically a showstopper early in the season, the wild blueberries, also known as huckleberries, have turned a beautiful red at higher elevations. Grandfather Mountain and its immediate area are still mostly green with hints that a nice fall season is ahead of us. The weather this week is picture perfect with sunny days and chilly nights, also great ingredients for fall color progression. Photo by Skip Sickler | Grandfather Mountain Stewardship Foundation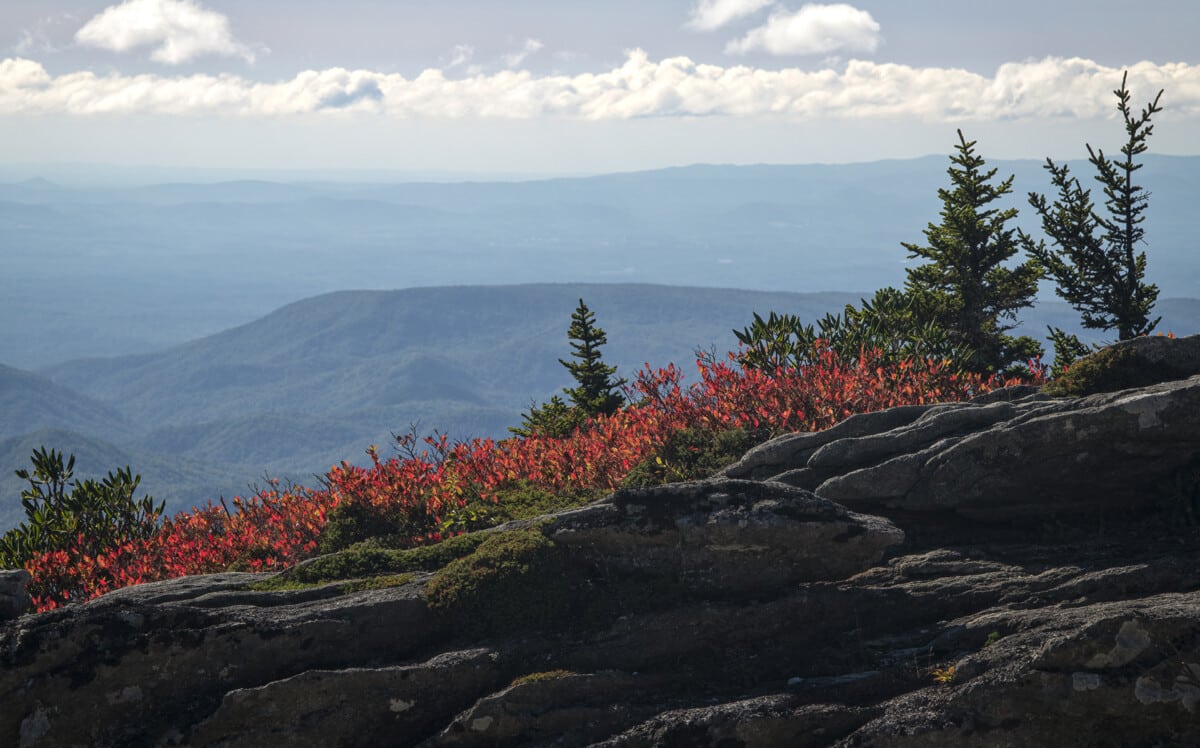 ---
Tuesday October 4 – captured in Banner Elk today. Photo: Scott Green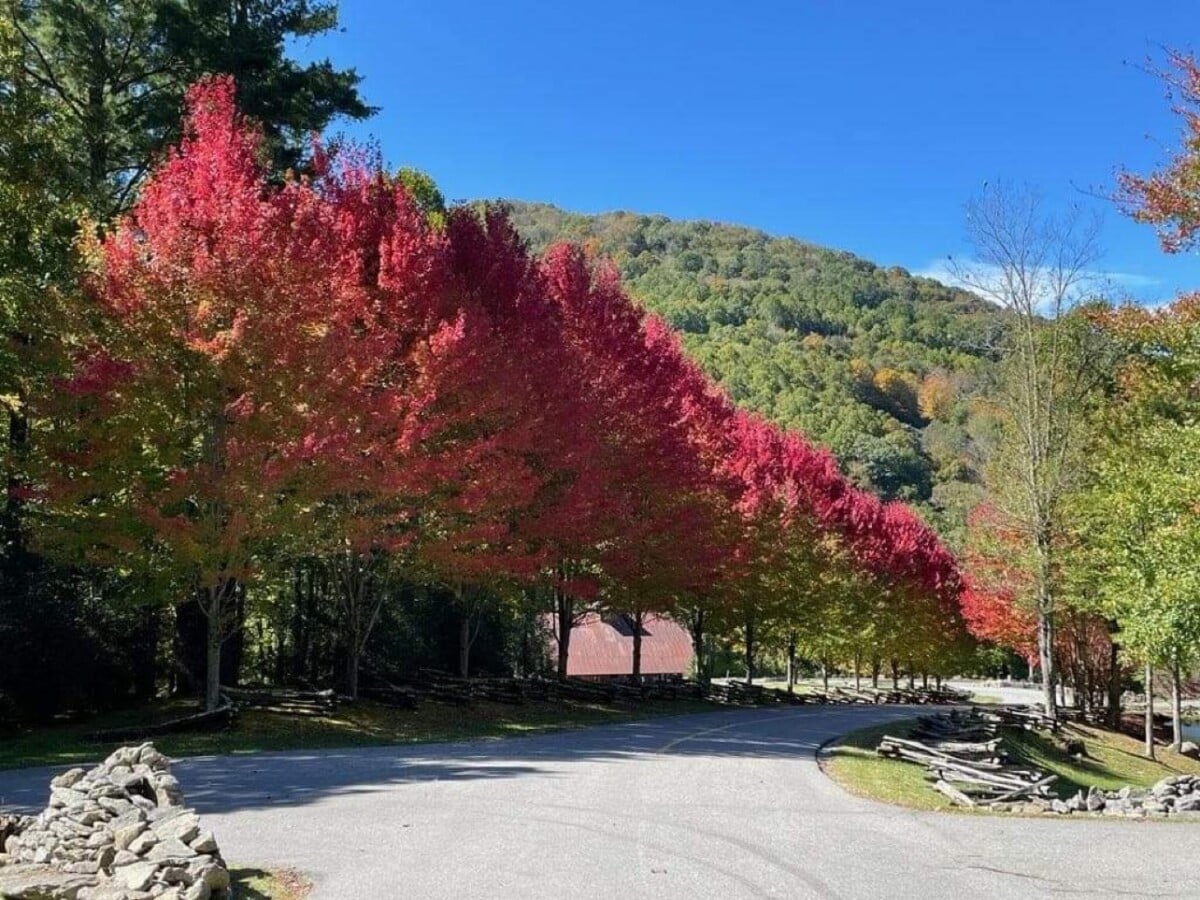 ---
Fall Color Report for the Week of September 25, 2022
Today I went on a fall color excursion to Craggy Gardens and Mt. Mitchell accompanied by two of my students, Hannah Lilly, and Leigha Henson. Trees are coloring up nicely above 4,500', although green is still dominant. However, there are individual trees in full color, adjacent to others that are just starting, which themselves are adjacent to yet others that are mostly green. In another week, if the weather remains cool, colors should be fine at these high elevations.
We had an exciting encounter with a bald eagle just before we got to Linville Falls – it was feeding on some animal in the road and as we drove by it flew off next to our car before taking off above the trees. Then, not five minutes later, we came upon a flock of turkeys along the road. Later in our trip, we had to slow down to let two turkeys cross the road. Why they crossed the road I don't know, but maybe they talked to some chickens about it (joke, joke!).
Some trees are completely leafless now, such as buckeyes, which you can identify by the fruits still on the branches. A lot of the mountain ash are beginning to lose their leaves, and unfortunately, many of them didn't set fruit this year. But there are a number with their bright red berries at the summit of the Craggy Gardens trail, which starts half a mile north of the visitor center on the Parkway.
There are a number of wildflowers in flower now, and these include asters and some unknown yellow composites, plus saxifrage. Viburnum leaves are coloring up and there are at least two species up at Craggy Gardens. Other shrubs include Rhododendron catawbiense and blueberries, plus a few unknowns. Birches are starting to turn yellow, but beech are still mostly green.
I highly recommend the hike up to the top of Craggy – it's not a hard trail, nor is it very long. The bunker-style overlooks afford a 360-degree view. Toward the northwest you can see I-26 snaking its way out of Asheville. Note that the restrooms all along the Parkway are closed and you'll have to use the porta-potties, which depending on the time of day, and day of the week, may or may not be usable, depending on your tolerance for varying degrees of sanitation. Be prepared!
From Craggy we went north on the Parkway for the relatively short drive to Mt. Mitchell State Park, the oldest state park in the state, established in 1916. Mitchell is named after the UNC-Chapel Hill professor Elisha Mitchell, who devoted a large amount of his time trying to prove that Mt. Mitchell was the highest peak in the eastern United States, which it is, at 6,684' elevation.
Sadly, while on a trip in June of 1857, he fell off some rocks at a waterfall and died, at age 64. After an initial burial in Asheville, his remains were moved to the summit of the mountain that bears his name, and you can see his burial tomb if you hike the short, paved trail to the top. There is a nice elevated viewing platform on the summit, from which you have a 360-degree view. We were able to easily see Grandfather Mountain, Table Rock and Hawksbill today.
There isn't much color at the top of Mt. Mitchell, because you are in the spruce-fir forest that dominants there and those species are evergreen. However, there are some birches and other deciduous woody plants that provide a little color.
But the main attraction of Mt. Mitchell, besides being the tallest eastern peak, is the beauty of those high elevation forests. There are numerous trails you can take, some of which can be quite strenuous and long, but just past the education building on the paved path to the summit is a short and easy loop trail that takes you through a dense, dark, Fraser fir forest. I highly recommend it because it gives you a real feel for these unique forests.
They are glacial relicts and those with Fraser fir only occur on 7 of the highest peaks in the Southern Appalachians, making them one of the most endangered ecosystems in the United States. And there are some unique animals in these forests, including hawks, bobcats, coyotes, and of course bears. There is even a small tarantula, the spruce-fir spider, that occurs nowhere else in the entire world! This trail only takes about 20 minutes and is mostly level, so try it out.
Before leaving Mt. Mitchell, we got a snack and drink at the food stand there. Then we headed north on the Parkway and got on Rt. 80 north toward Spruce Pine/Burnsville. This takes you downslope into the Toe Valley by the Toe River. There are some nice views off to the left of the Blacks, the mountain range that extends northeast from Mt. Mitchell. In a few weeks when colors start to change at lower elevations, this would be a good road from which to view them from a distance.
That's about it for this week. If temperatures keep within normal ranges for this time of year, I think we'll have peak fall colors close to historical times (see my chart that I posted several weeks ago, or my newly updated map). As we got near to Boone in late afternoon, it began raining and that means we won't be in any drought situation in the near future, which bodes well for good fall color. I am keeping an eye though on hurricanes in the Gulf and Atlantic. So far, none are headed our way. But more and more are forming each day and I'll have to keep watching where they might go.
Next week I will be in Maryland for my niece's wedding so I won't be able to do a fall color outing, but I'll take a look at the colors as I head north on I-81 into Virginia.
Have a great week!
Updated note – Just a note that next weekend could be wet and dreary up here in the Southern Appalachians due to Hurricane Ian. It's current path has it moving north after it hits Florida.
But because it's coming somewhat before leaf colors peak, I don't think it will have a huge impact on later fall colors. Some leaves will come down, but if the winds aren't too high, we should be ok.
Stay tuned!
---
Captured this morning (Thursday September 22, 2022) in Banner Elk. Photos: Scott Green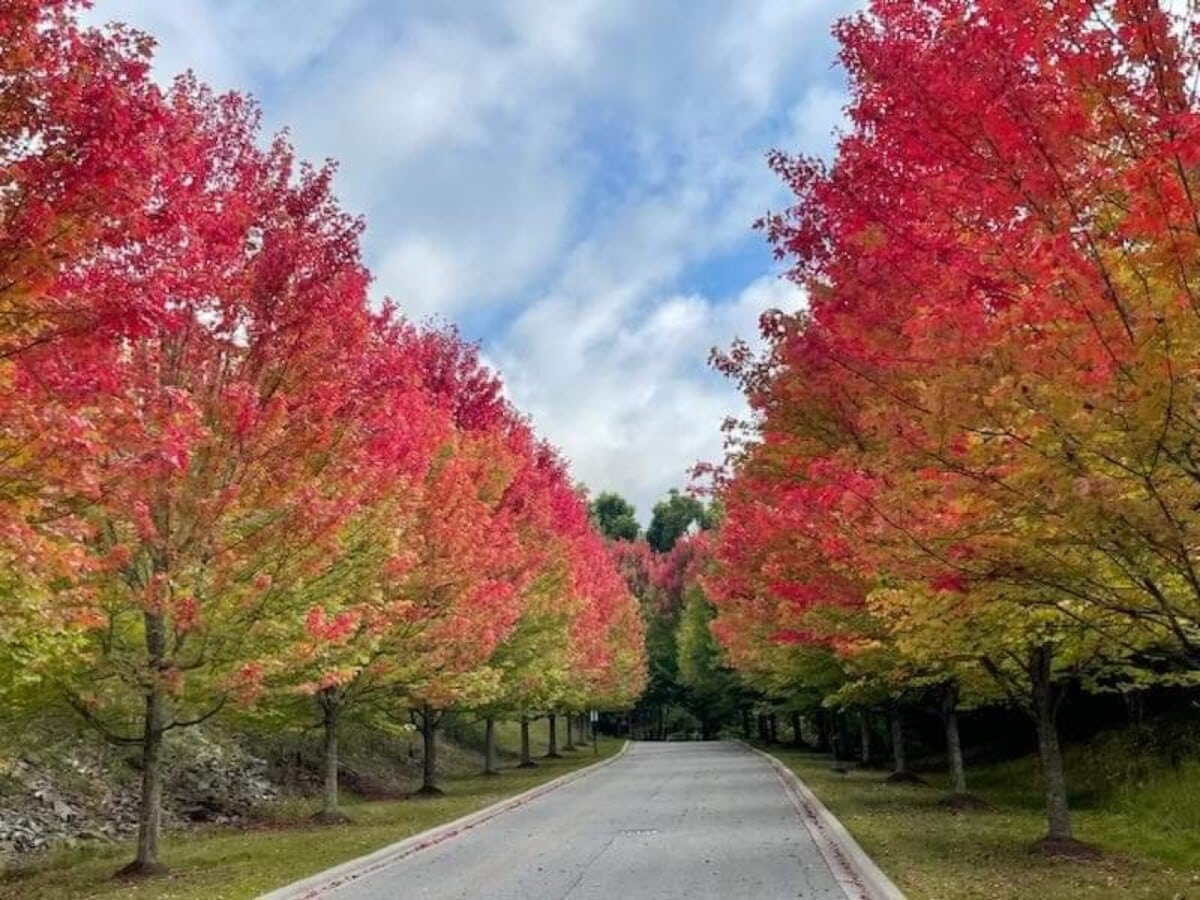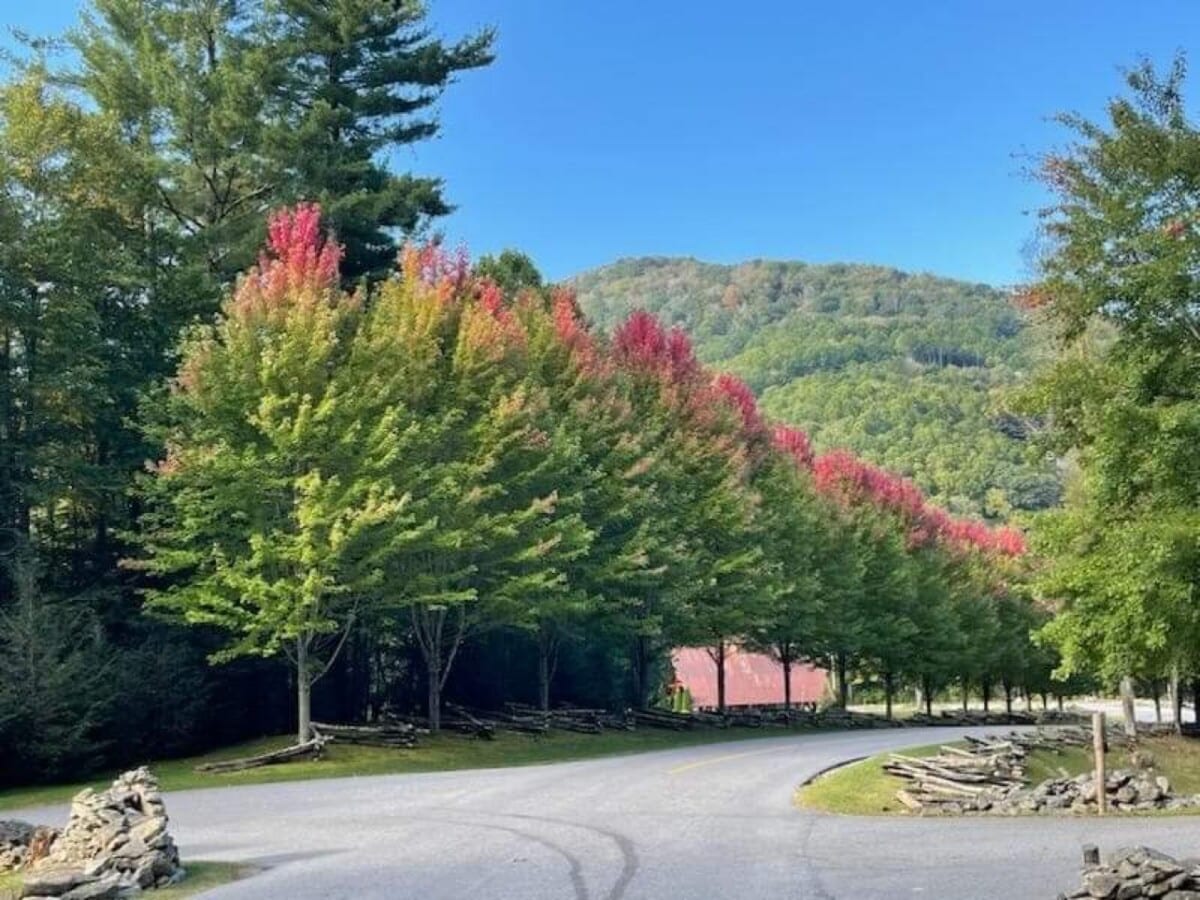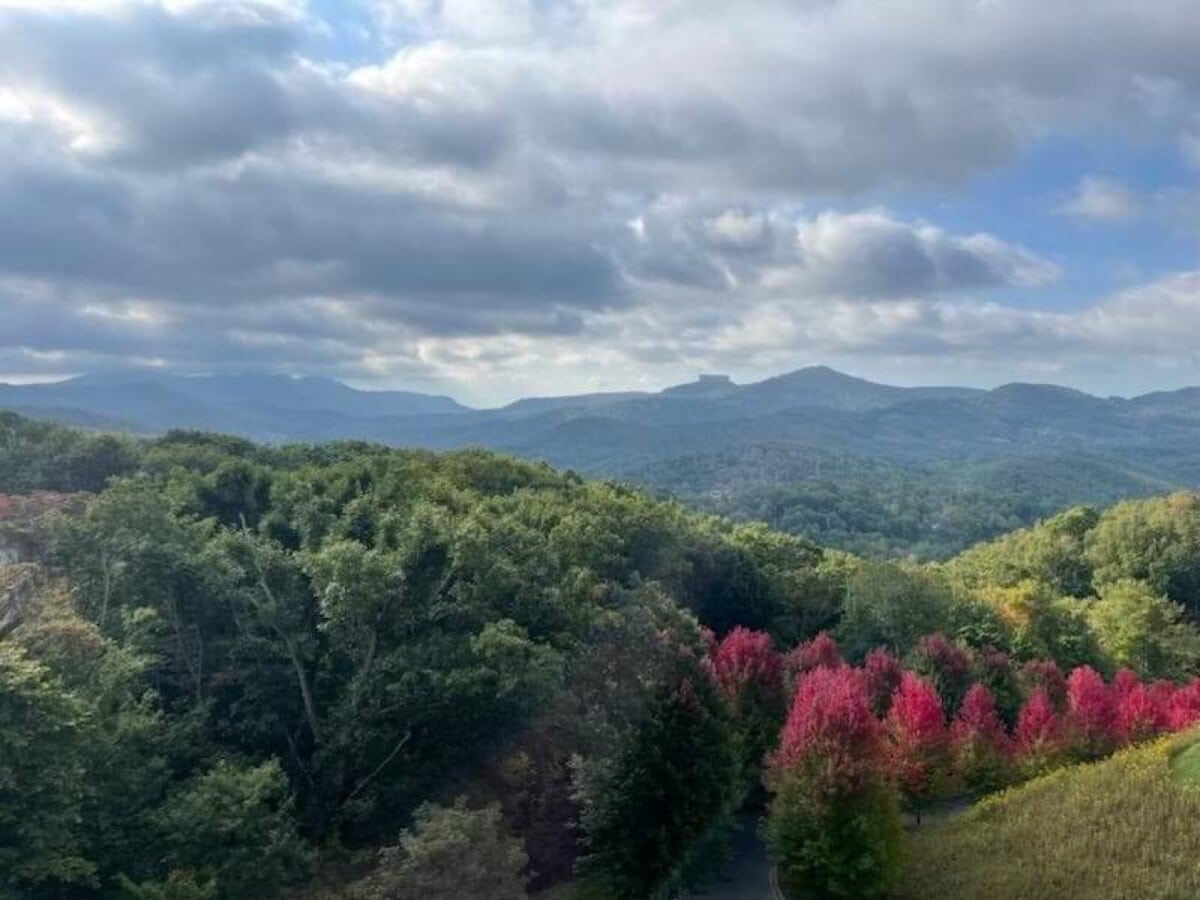 ---
Fall Color Report for the Week of September 18, 2022
One thing you can never do when forecasting anything is to become complacent. If you do, you will miss things. Today, I hiked up to the summit of Elk Knob State Park, just north of Boone, and I'm glad I did, because otherwise, I would have missed the beginnings of fall colors here in the High Country! The peak at Elk Knob is 5,520' and offers panoramic views of the mountains in Watauga and surrounding counties as well as into southwestern Virginia. I highly recommend this hike, which is 2 miles to the top, and because there are switchbacks, the grade is fairly shallow and it is not that rigorous a hike. You could easily get to the top in 1 hr.
However, what disappointed me today was seeing how many hikers have been trying to cut short the switchbacks, just to save a few feet of extra walking. This is extremely destructive to the trail system, and can be dangerous, because if you head downslope off trail the result can be a twisted ankle or worse, since the slopes are so steep. Furthermore, such behavior exacerbates erosion, damages the plants, and just plain ruins the experience for everyone else. The Park has had to put up plastic fencing to discourage people from doing this. So, for your safety and the enjoyment of everyone else, please stay on the trails.
Fall colors have started showing now in the High Country, particularly above 4,500' elevation. You can view the photos attached to this report to see the evidence of that. It's just starting, and I would say that in the forest below the Elk Knob NW overlook, color is about 10-15% progressed. In a few more weeks, this particular forest will show off some of the best color in the High Country. I think the trees showing color now are sugar maples, a few red maples, and perhaps some buckeyes. Being way up on the peak I could not discern the individual trees below me, but based on my observations from other locations, I think I'm right.
Along the Elk Knob trail there are a number of native wildflowers, including goldenrods, asters, and gentians, and sporadic instances of other tree species beginning to turn color. Much of the mountain is dominated by beech, and some of those at the upper elevations are yellowing, while mountain maples (Acer spicatum) in the understory are just starting to yellow. There are larger maples on Elk Knob (maybe sugar, A. saccharum) and they too are turning color, usually orange-yellow.
Of particular note are the viburnums, known locally as hobblebush. This understory shrub is peaking in color right now, and this will continue into next week too. The unusual feature of this shrub is the haphazard pattern of leaf coloring – individual leaves have splotches of color, or in some cases, one half of the leaf will be colored, and the other completely green. The leaves eventually turn a deep burgundy red over time, but for now, they are putting on quite the show. You will encounter these about half way up the trail around the 1 mile marker. There is also a bench at the 1 mile overlook (which faces NW) and they are common there.
In much of the remaining area in the NW part of NC, the forests are still mainly green, especially below 4,000', although with the cool weather we've had this past week, maples, buckeyes, and dogwoods are coloring up nicely. We're supposed to have a mini-heat wave later this week, but then that will dissipate and we'll be back to cooler weather again. That bodes well for color development, since these patterns of lower temperatures and clear skies bring out the colors. If temperatures continue to follow the cooler pattern, we're looking for peak colors to be on time this year. See my chart which I posted a few weeks ago which outlines when colors peak at different elevations.
This Thursday, September 22, marks the Autumnal equinox. On this date day and night lengths are approximately equal, and afterwards days become shorter than nights until we get to the winter solstice, on December 21st, when they begin to get longer again. The Autumnal equinox also marks the beginning of the fall season.
Next week I'll try to head down to Mt. Mitchell and Craggy Gardens. Since those areas are also at high elevations, colors should be showing up there also. I've heard reports that colors are well on their way in Graveyards, which is south of Asheville on the Parkway.
Finally, we had a heck of a weekend here in Boone. First, yesterday (Sat) ESPN hosted their football show Gameday from 9 am to noon on the campus of Appalachian State University, and there were thousands of students there. Then later that same day we played Troy State in football. Coming a week after knocking off #6 ranked Texas A&M, there were fears that we might have a letdown, which turned out to be true, as we trailed Troy 28-24, with just 55 seconds left in the 4th quarter. But then App got a safety on Troy for 2 points, and the ball back. With App on its own 42-yard line and time running out, our quarterback heaved a Hail Mary pass which came down among half a dozen players somewhere around the 7 yard line, and lo and behold it bounced into an Appstate receiver's hands and he ran it in for a touchdown and we won 32-28. Talk about a crazy time here!
I've posted photos from my hike today and you can go there to find out more about the plants I saw today. Have a great week.
---
Fall Color Report for the Week of September 11, 2022
Greetings from the High Country! The students up here are all in "high" spirits after watching the Appalachian State University football team defeat the #6th ranked program in the country yesterday, Texas A&M University. Students piled out of their apartments and dorms and congregated on King Street in the middle of town (which is also US 421!) to celebrate. This was our second win over a top 10 team: last time was when we beat Michigan 34-32 in what Sports Illustrated said was the greatest upset of all time in college football history. Although I have problems with the business side of university athletics, they do provide pride and a sense of community when they achieve milestones like this. If only they paid professors what coaches get!
But I digress…a lot! Back to fall leaf color. It's still too early for much color, but here and there one can see hints of what is to come. Tulip poplar (Liriodendron tulipfera) leaves are just now starting to turn yellow. And for the last 10 days, yellow buckeyes (Aesculus flava, formerly octandra) have been running yellow, then turn brown, and falling off. Trees in this genus also include A. pavia (red buckeye), and A. sylvatica (Georgia buckeye) and bottlebrush buckeye (A. parviflora), which are native, understory trees in the Piedmont and coastal plain, but do not occur in the mountains. All the species in this genus tend to leaf out early in the spring, often before any other tree, and then in late summer they lose their leaves before most other species. The understory species, in particular, tend to take advantage of the high light conditions in early spring to do most of their photosynthesis, much like spring vernal flowers do. I once co-authored a scientific paper on Georgia buckeye on this very topic. Anyway, the point here is that the early leaf coloring and drop is normal for this group of trees.
Flowering dogwoods continue to increase their color intensity and both red and sugar maples are showing hints of coloring up now. Of course, urban trees are well into their coloration and I've included in this report photos of trees on the Appstate campus to illustrate this effect.
We had nearly 5" of rain last week, and with just a few more weeks to go until peak fall color, drought is not going to be an issue this year. Given that, the biggest determinant of when the peak colors will occur is going to be the prevailing temperatures, both day and night. We have had some cool nights this past week, down to the low 50s, but it would better if we could get into the mid-40s. That would spur the colors on. But the long-range NOAA forecast is for above normal temperatures. If only slightly above normal, then colors may be delayed just a few days, but if significantly above normal (like temperatures in 80s here), then they could be delayed a week or even longer (as happened in 2018 and 2019). The good news is that NOAA predicts below average precipitation, and that means more sunny skies, and that, in turn, contributes to more intense red colors.
While you're waiting for the trees to change color, there is plenty to see closer to the ground. Goldenrods (Solidago sp.) are now blooming and they form dense colonies in old fields and along roadside and trails. For those worried about allergies, know that goldenrods do NOT cause allergies. Ragweed (Ambrosia artemisiifolia), a completely different species, does. But not goldenrods, so you can enjoy them without concern. If you see tall plants with deeply purple flowers, they are probably New York Ironweed (Vernonia noveboracensis), and one of my favorite late season bloomers. Evening primroses (most likely Oenothera biennis) are also blooming now, with their prominent buttery yellow flowers. And one of my favorite late blooming species, due to its gigantic flower displays and height (up to 10' tall) is Joe-Pye Weed (most likely Eutrochium purpureum, formerly known as Eupatorium purpureum).
Next week, weather permitting, I'll try to head out to Elk Knob State Park, which is above 5,000' elevation to see how the trees are doing at higher locations. In the meantime, I'll keep a watch on other high elevation locations such as Mt. Mitchell, Graveyards, and Craggie Gardens, which are all along the Blue Ridge Parkway.
Finally, I also publish these reports on the Appstate Biology webpage, which you can navigate to if you want to review past postings in previous years, or want to read some of the scientific essays I wrote about fall color. The link to that site is posted here: https://biology.appstate.edu/fall-colors and if you scroll about you can find links to other fall color resources and a map showing when colors will change all along the mountain chain in western NC.
Enjoy!
---
Fall Color Report for the Week of September 2, 2022
Today I took a short trip up to Grandfather Mountain to check out the trees and their new Nature Museum, which opened in July. The museum, known as the Wilson Center for Nature Discovery, is a modern, interactive complex that both children and adults will like, and it has displays that show off the unique aspects of Grandfather Mountain, including its geology, weather and climate, and of course, its fascinating biodiversity. There is also a large classroom where students and the public can enjoy learning about the mountain and nature.
There isn't a lot to report concerning fall colors because the surrounding forests are still quite green. There is the occasional red or yellow leaf here and there, but we won't really see much until near the end of this month. The native rhododendron, Rhododendron maximum, is losing its older leaves now, so you'll notice a lot of yellow leaves on them. This is natural and nothing to worry about. Goldenrods are blooming now and adding a nice yellow accent to the landscape, and up near the swinging bridge, you can find some late blooming Liatris also.
It was in 1952 that Hugh Morton, the owner of Grandfather Mountain, put up what became known as the Mile High Swinging Bridge. Today there were celebrations in honor of its 70th anniversary. It's one of the most popular attractions at the park. The Grandfather Mountain Stewardship Foundation has also updated their garden plantings around the Museum which has visually improved the area. Behind the grill area there is a wildflower garden designed to attract pollinators, so if you go there, be sure to check this out.
When I crossed the swinging bridge, I encountered several rangers and volunteers on the far side, where they were assisting people with nature interpretation, as well as participating in the raptor flyby counts. Each fall, volunteers and employees count the number of hawks and eagles that are migrating south for the winter, since this particular area is one of the major fly by routes in the eastern United States. Three of the people I met, I'm proud to say, were recent Appalachian State University graduates: Amelia and Jacob, up on the peak, and Page, who was working in the Museum. Martina, who was also at the top, was volunteering from North Carolina State University. What a great opportunity for these current and former students who get to work in such a beautiful place.
If you don't know, Hugh Morton, the former owner of Grandfather Mountain, served in WWII, and was a combat photographer. Many of the photos posted about the Museum and grill were taken by him. After he passed away, the family sold most of the land to become Grandfather Mountain State Park, while the area surrounding the bridge was kept by the Grandfather Mountain Stewardship Foundation whose proceeds go to protecting the mountain. Grandfather Mountain is a UN Southern Appalachian Biosphere Reserve, due to its unique biodiversity and you can read all about it at the link provided below.
That's about it for this week. Remember, if you want to visit Grandfather Mountain (https://grandfather.com/), you need to make reservations ahead of time. As we get closer to peak color, you may want to consider visiting during the week instead of on the weekend, which will help you avoid the crowds. And going early in the day will likewise do the same, plus when you are there early in the day, the sun is at a low angle in the sky, and the fall colors will be more saturated, enabling you to take better pictures.
---
Fall Color Report for Week of August 28th, 2022
Welcome back Fall Color Enthusiasts! This begins my 15th year following the fall color season in the mountains of western North Carolina, and it's been a great experience watching the trees turn each year and interacting with all of you. I hope my reports have helped you over the years to plan great trips to the mountains to see the beauty of the High Country and that this year will be no different.
So, what do we expect for this upcoming fall color season? Believe it or not, it is still too early to make accurate predictions, but I can say this: we have had a moderate to warm summer (July was hot and dry, but August started off cool and wet, but has recently transitioned to the "dog" days with high temperatures and low rainfall). We've had adequate rainfall, so we are not in a drought situation at this time. And for some reason, and this is only anecdotal, the trees look particularly lush and full of leaves this year. Maybe it's wishful thinking, but others have remarked on this also. It may have been the result of good spring weather, or it may simply be that we're all delusional. But there are plenty of good-looking trees out there right now, and that bodes well for the fall color display to occur later on.
The month of September is the most crucial for determining the timing, and to some extent, the quality of our fall color display. I will be watching the weather closely to see how it progresses through the month. NOAA predicts that we will have above normal temperatures over most of the US, but in the southeast, it is a tossup – that is, it could equally be warmer, on average, or even cooler, which is NOAA speak for "it is difficult to predict exactly what's going to happen". Regarding precipitation, September looks to have above normal precipitation. It is supposed to be an active hurricane season too, but so far it has been quiet. There are at least four disturbances now though, and weather forecasters are keeping track of them. You can find these predictions at the National Weather Service's Climate Prediction Center (Click HERE to view).
Going into October, the longer-range forecast is for above normal temperatures in almost all the lower 48 states. Precipitation is expected to be below normal for the southern Appalachians, which bodes well for our fall color display. Colors are better if the period leading up to the peak display is sunny. Cooler temperatures, combined with sunny days are best, but if you can't have cool, sunny will do.
These weather predictions suggest that the timing of fall colors may be slightly delayed this year. In a normal year, we would expect the following timings for peak fall color displays, which strongly depend on elevation, with leaves turning first at high elevations and then colors work their way downward each week. Note also that peak color may vary a few days on either end. Here is a listing of the average times for peak color displays, separated into elevational ranges:
• Above 4,500': late September into first week of October
• 4,500' down to 3,000': around Oct 10th to Oct 20th
• 3,000' down to 2,000': Oct 20th – Oct 31st
• 2,000' down to 1,000': Oct 31st to Nov 14th
• Below 1,000': Nov 14th to end of November
With that expectation of warming, I'd say colors may be delayed a few days to a week, depending on just how above normal the temperatures are in late September and early October. I'll get better at setting dates as we closer to peak color times. In fact, I should be able to perfectly predict the day it peaks, on the day it peaks (wink, wink!).
I have attached some pictures of trees in and around the Boone, NC area from this week. Most are urban street trees. Red maples and a few urban sugar maples are coloring up already, as they do every year, and native flowering dogwoods are well on their way now also. But the hillsides and forests are still lush and green, and should start showing color in three weeks or so. I will be going out regularly starting the first of September to report on the progression of color in the mountains.
That's about it for this week. I'll heading out in mid-September to some higher elevation sites along the Parkway around the Asheville area, as these areas turn earlier than other places. Watch for it and have a great rest of your week!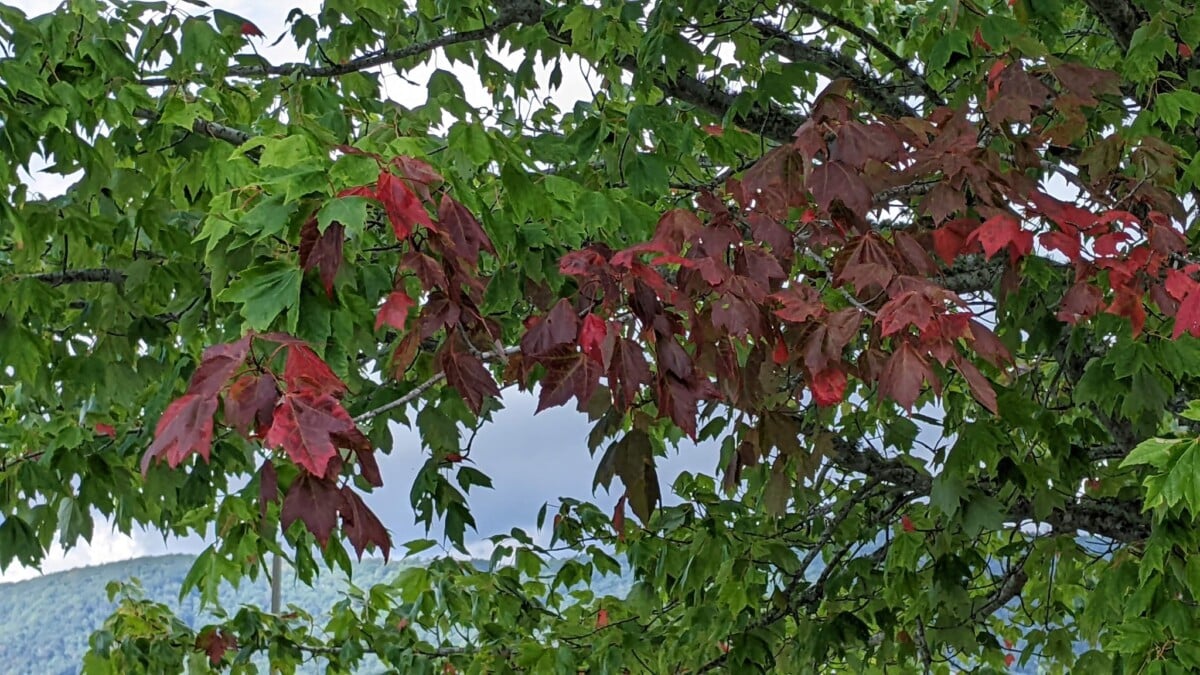 ---