***For more information about the history of earthquakes in the High Country visit High Country Earthquake History page***
4:23pm – USGS is reporting a 2.6 quake, 2 miles NNE of Blowing Rock. Reports from Facebook indicate that residents all across Watauga felt the tremble. More information as it becomes available.
4:44pm – USGS has upgraded the quake to 2.9 epicenter located 2 miles NNE of Blowing Rock
UPDATED 7:46pm – there are no reports of damage, via social media, from Sunday's earthquake near Blowing Rock.
Though very rare, over the last couple of years residents in the High Country have felt shocks from earthquakes, none of which were centered here however. Nov 10, 2012 – http://wataugaroads.com/area-residents-feel-earthquake-rumble/ Aug 23, 2011 – http://wataugaroads.com/earthquake/
USGS map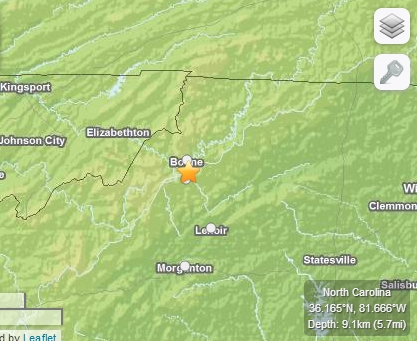 Google map of the epicenter of the quake