Weather Forecast
National Weather Service Watches and Warnings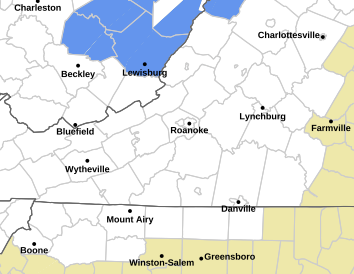 Wind Advisory
Flash Flood Watch
Flood Warning 
 Winter Weather Advisory
Winter Storm Warning
Wind Chill Advisory  
Special Weather Statement
Hazardous Weather Outlook
Current Watches and Warnings for Morristown TN Forecast Region , Greenville/Spartanburg Forecast Region.
Forecast provided by National Weather Service:
Today
Rain and freezing rain this morning…then sleet… Snow…rain and freezing rain this afternoon. Snow and sleet accumulation around an inch. Ice accumulation around a trace. Much cooler with highs around 40. Temperature falling into the upper 20s this afternoon. Northwest winds 10 to 15 mph. Chance of precipitation near 100 percent.
Tonight
Mostly cloudy with a chance of snow in the evening… Then mostly clear after midnight. Little or no additional snow accumulation. Much colder with lows around 15. North winds 10 to 15 mph. Gusts up to 30 mph in the evening. Chance of snow 50 percent. Wind chill values as low as 10 above.
Friday
Sunny. Highs in the mid 30s. Light and variable winds.
Friday Night And Saturday
Mostly clear. Lows in the lower 20s. Highs in the lower 40s.
Saturday Night Through Monday Night
Partly cloudy. Lows in the upper 20s. Highs in the upper 40s.
Tuesday
Mostly sunny. Highs in the upper 40s.
Current Watches and Warnings from National Weather Service: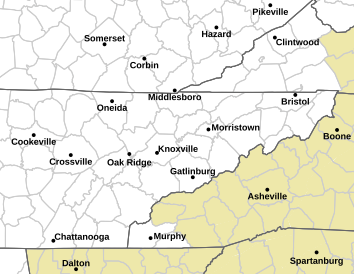 Wind Advisory

Flash Flood Watch

Flood Warning 

Winter Weather Advisory

Wind Chill Advisory

Winter Storm Warning

Special Weather Statement

Hazardous Weather Outlook
Greenville/Spartanburg Forecast Region
Wind Advisory

Flash Flood Watch

Flood Warning 

Winter Weather Advisory

Wind Chill Advisory

Winter Storm Warning

Special Weather Statement

Hazardous Weather Outlook