Fall Color Peak Map
Map Conceived by Dr. Howard Neufeld and Michael Denslow
Map Constructed by Michael Denslow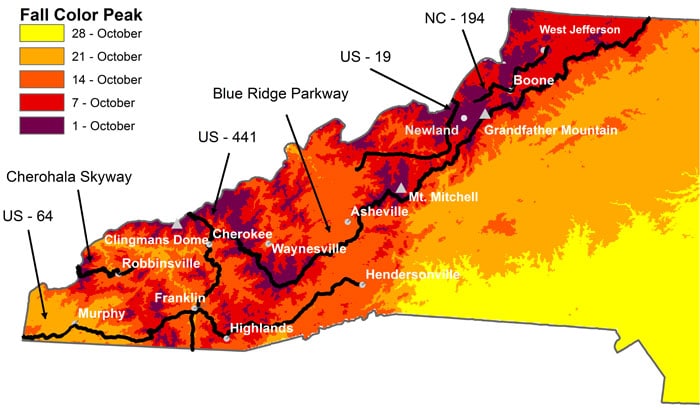 2015 UPDATES
For the 4th year in a row WataugaRoads.com is teaming up with Dr. Howard Neufeld, Professor of Plant Eco-physiology at Appalachian State University, better known as The Fall Color Guy to provide information as the colors start changing.
Maps via Foliage Network – http://www.foliagenetwork.net
Fall Color Report for Week of October 25, 2015 from The Fall Color Guy. Check out The Fall Color Guy on Facebook :
Regarding fall leaf colors – I was pleasantly surprised at how bright the colors were along U.S. 421 in Deep Gap up to the intersection with US 221 and the Blue Ridge Parkway. As one heads down in elevation going east on US 421, the colors are spectacular down to about 2,000′. Very nice.
A drive along the Parkway from US 421 to Blowing Rock, or north to Laurel Springs would be excellent this week. Of course, the weather may not cooperate, as the remnants of Hurricane Patricia are moving in.
In the Boone/Blowing Rock area, the oaks are looking good, as I mentioned yesterday. But what surprised me was the degree of color lower down in the foothills near North Wilkesboro. More color than I had expected. Even as low down as Lexington there was a lot of color showing already. Good viewing everywhere it seems!
Maps via Foliage Network – http://www.foliagenetwork.net
Maps via Foliage Network – http://www.foliagenetwork.net
Maps via Foliage Network – http://www.foliagenetwork.net
Fall Color Report for Week of October 11, 2015 from The Fall Color Guy. Check out The Fall Color Guy on Facebook and at http://biology.appstate.edu/fall-colors:
Today, the Fall Color Guy and his daughter Gabriela scouted out the Blue Ridge Parkway from the Thunderhill Overlook just outside Blowing Rock down to the Chestoa Overlook about 10 miles below Linville. It was a gorgeous day, and the Parkway was full up with leaf lookers.
This is THE PEAK WEEK for the Blowing Rock to Grandfather Mountain section of the Parkway. The same might be said for the Cashiers/Highlands area, according to my contacts down that way. Colors have exploded out over the weekend, even despite the dreary, rainy Saturday that we had. Luckily for us, there was little or no wind on Saturday, so while some leaves did come down, many stayed up, and are now turning beautiful colors.
One notable color addition this week is the black gum tree (Nyssa sylvatica). This tree turns a lovely deep red color that complements the reds of the maples, sourwoods and sassafras trees. Today, the colors were really spectacular along the Blue Ridge Parkway from below Holloway Mountain road down to the Beacon Heights parking lot. I saw a lot of reds splashed against a background of brilliant orange and yellow. Despite all the bad weather we've had, the trees have held their ground, and are now showing us all a magnificent display of color.
Forests below 3,000' are still predominantly green, and so they will color up in the next two weeks, but right now, the peak color is from about 5,000' or so down to about 3,000'. If you head south of Linville, the colors become more muted, with fewer red trees and more yellow ones (due to a change in species composition over to hickories, ash and oak). When you get past Little Switzerland, heading south toward Mt. Mitchell State Park, the colors begin to pick up again, and from there to Craggy Gardens, you'll have great views this week up to next weekend. The same can be said for the area south of Waynesville to the Waterrock Knob area of the Parkway.
The Smokies are still working up to their peak color, and most of the lower elevations are still predominantly green. They will work up to their peak color in the next two weeks, and Gatlinburg should be at peak color at the end of this month.
You can check out the status of the fall color there at this website:http://www.nps.gov/grsm/planyourvisit/fallcolor.htm .
You can also check out their Facebook page:https://www.facebook.com/GreatSmokyMountainsNPS
Maps via Foliage Network – http://www.foliagenetwork.net
Fall Color Report for Week of October 4, 2015 from The Fall Color Guy. Check out The Fall Color Guy on Facebook and at http://biology.appstate.edu/fall-colors:
That pesky low pressure system that has been plaguing the southeast is still with us this week, but today it seems to be showing signs of dissipating. For one brief instant, late this afternoon, I actually saw the sun! We've had something like 12 straight days with clouds/mist/rain, exactly the wrong weather for good fall leaf colors. However, the saving grace is that this all occurred when the majority of trees in the High Country were still green, and were holding onto their leaves tightly. Thus, even though there is a lot of debris on the ground from the rains and winds, many of the trees, especially those at mid-elevations (2,500' to 4,000', i.e., Boone/Blowing Rock area) still have their leaves. And because the weather will improve starting tomorrow, getting sunnier and warmer, I predict that those trees will quickly begin turning color.
However, I have to be honest – after my travels today, I was amazed at just how many leaves have been taken off the trees. In some places, I'd estimate 20%-40% of the leaves had been knocked down, mainly from just two species: yellow birches and tulip poplars. There are some maple and magnolia leaves on the ground too, but the birches and poplars probably make up 90% of the fallen leaves.
The other important observation from today is that in the Boone/Blowing Rock area, many of the hillsides are now 50% to 70% colored up, much more than I expected. To me this means that as the weather improves and gets sunnier and drier, colors will rapidly approach their peak for the High Country, perhaps by the end of this coming week and into that trailing weekend (Oct 8 – 10th), with good color still persisting into that following week (Oct 11-15th). I'm not seeing a lot of reds (which is what happens when it gets cloudy/rainy), so I'm inclined to knock down my prediction from being an exceptional year to just a very good year.
Higher elevations were already starting to turn color prior to this episode of bad weather, especially around Grandfather Mt., and at other sites along the Blue Ridge Parkway, such as Graveyards, Waterrock Knob, and Craggy Gardens. However, if you go to those sites, and the leaves are gone, they still offer wonderful trails for hiking to overlooks, and from them you can view the fall leaf colors at the lower elevations.
This past week, the birches really began yellowing, along with the tulip poplars and magnolias. By the way, magnolias and tulip poplars are closely related and among the more ancient flowering plants, so it's not surprising that they both change colors at near the same time, and that both turn yellow, although the magnolias quickly morph over into a lovely chocolate brown.
Our sugar, mountain, and red maples are also turning colors now. Mountain maple, a lesser known maple species, turns an interesting orange/red color. It is found mainly at higher elevations, and is a prominent species along the road in Grandfather Mountain State Park. It doesn't get as big as some of the other maples. Sugar maples can turn a variety of colors, ranging from yellow to orange to red, while red maples essentially produce just red leaves. Along U.S. 221 between Pineola and Linville are some really large sugar maples, just off the highway, that are turning a nice yellow color now.
Sourwoods, if not already a deep burgundy red, are switching over to that color now, as are sassafras, which like sugar maples, can have every color on them at one time. Hickories tend to turn a dull yellow then brown, and I'm afraid they are not one of my favorite fall color trees. A bright spot in the forests, at eye level, is witch hazel, an interesting understory shrub that is common throughout the southern Appalachians. Not only do the leaves turn a golden yellow, speckled with brown, but it is one of the only plants that flowers at this time of the year. The flowers are composed of curly yellow filaments which are the petals. Its pollinator is a small moth.
Stay dry and have a great week!
Maps via Foliage Network – http://www.foliagenetwork.net
Fall Color Report for Week of September 27, 2015 from The Fall Color Guy. Check out The Fall Color Guy on Facebook and at http://biology.appstate.edu/fall-colors:
Starting on Thursday of this past week, a low pressure system became stalled off the east coast of the Carolinas, bringing substantial amounts of rain and wind all the way into the mountains of western North Carolina and Tennessee, plus upstate South Carolina and Georgia. However, the cloud cover also moderated low nighttime temperatures, and while it has been cool during the days, it hasn't been getting as cold at night like it did prior to these rains. When there are clear skies, infra-red radiation (heat) can escape into space, resulting in cold mornings.
As a result, the development of fall leaf color has slowed down this past week, something that I had mentioned could happen. This means that we are probably back on a regular schedule for peak leaf colors, meaning that colors will peak during the first week of October at high elevations (4,500' or above), around mid-October (the 10th through the 16th from 4,500' to 2,500'), and during the last week of October in the Asheville area (~2,000 – 2,500').
It has rained continuously since Thursday of this last week, and the weather forecast for the entire coming week is somewhat bleak – at least a 30% to 50% chance of rain every day until Friday (even thunderstorms on Tuesday!), with moderate temperatures every day. This will probably keep the rate of fall leaf color development at a slow pace, but not stop it. So, be patient. The rain, which we need, will abate by the following weekend, and that weekend should be the first really good one for full-fledged fall leaf color viewing. One thing in our favor is that all this rain has occurred prior to the leaf color peak, when the leaves are still held on the trees fairly strongly. So while some leaves have come down during this recent stormy spate, the majority that have not yet turned color are still attached tightly to the trees. So, I'm optimistic that we'll have plenty of leaves left for a great fall color display in the next few weeks.
Fall Color Photos from Grandfather Mountain (Monday Sept 21-Wed Sept 23)
Fall Color Report for Week of September 20, 2015 from The Fall Color Guy. Check out The Fall Color Guy on Facebook and at http://biology.appstate.edu/fall-colors:
It has been delightfully cool here in the High Country for the past 10 days or so, especially in the mornings. It has also been very sunny. And as I've said for many years, if you get cool, sunny weather in September, you're headed for good fall leaf color. And we're getting it! So, if this keeps up for the next few weeks, we should be headed for a really, really, good fall leaf color season!
Color has burst out this week here (and burst is the appropriate word!). Last Sunday, I said the word to describe the forests then was "green". But now, just one week later, the hillsides are showing color, some of it quite good. The best color so far is between Grandfather Mountain and Rough Ridge along the Blue Ridge Parkway. For some reason, this area always develops the brightest colors, and does so first in the High Country. I'm not sure why, but every year it develops before other areas. So, right now that is the best section of the Parkway to see some good color, although I was told by one person that north of Doughton Park on the Parkway (toward Virginia), color was good along that stretch of the road. Price Lake is starting to show color also, which is just south of Blowing Rock.
What trees are showing now? Yellow buckeyes are losing their leaves now in droves, and they turn a mucky-yellow/brown. Buckeyes are among the first trees to leaf out and among the first to lose their leaves in the fall. Way back, when I had dark black curly hair, a friend and I even published a scientific paper documenting this pattern on some understory buckeyes. The yellow buckeyes are producing their seeds now (the buckeyes) which make great souvenirs, but don't eat them – they're toxic.
Maples have started turning, and not just in town, but in the woods too. Sourwoods are already mostly red, sumacs are starting to turn along the roadsides, and pin cherrys are orangy/red now. Some of the tulip poplars are showing hints of yellow, but the Fraser magnolias are ahead of them and already turning yellow before they shift over to chocolate brown. Witch hazels are just beginning their transition to yellow leaves, and they are also blooming now (one of the only shrubs that flowers in the fall season). Sassafras are starting their color transition, and you can find leaves that are yellow, orange, or red, all on the same tree! Lots of shrubs are turning now, especially the huckleberrys and blueberrys, which are a spectacular red at this time of the year.
If I were to rate the degree of color change now in the High Country, I'd say it would be a 1 on a scale of 10. Although this week may cause some to think the colors will be early this year, I caution that a warm up in the next few weeks could delay it and put it back on schedule. So, at this point, I'm still predicting that peak color in the Boone/Blowing Rock area will still be mid-October.
I'll post some observations for the southern mountains in the next day or so. So, keep reading and we'll hope to see you all sometime this fall.
Fall Color Report for Week of September 13, 2015 from The Fall Color Guy. Check out The Fall Color Guy on Facebook and at http://biology.appstate.edu/fall-colors:
Still green out there! But! This morning it was 48 F at my house, and probably several degrees colder at the higher elevations on the Blue Ridge Parkway. A cool front has moved in and dropped temperatures substantially, which is good for fall color development. But there hasn't been much change in the leaves since last week, although a few plants are showing color prominently now, especially up on the ridges near Grandfather Mountain.
Today, I hiked the Rough Ridge trail, which is just north of the Linn Cove Viaduct on the Blue Ridge Parkway. If you haven't done that trail, I highly recommend it. You do have to watch your footing in places, but the dangerous overlooks (at least some of them!) are bounded by a cable and I didn't get too close to the edges. In my next post, I will put up an album of pictures from today's walk.
So, what's changing now? In town, the planted red maples, often a horticultural variety that emphasizes their brilliant red fall colors, are really starting to show. These trees first turn red in their upper half, creating a bicolored tree for a while, before the colors move to the lower half. The sourwoods are also changing to red, and of course the dogwoods are already there. On the Rough Ridge trail, the huckleberries are starting to turn deep red, as are some trees that unfortunately, I don't know what are (help if you can, see the album following this post!). Chestnuts (Aesculus octandra, not American chestnut) are dropping their leaves now, and are always among the first trees to do so each fall.
That's about it for now. With this cool front moving in, I expect to see color changes pick up in the next two weeks. I'll keep you posted!!
Maps via Foliage Network – http://www.foliagenetwork.net
Fall Color Report for Week of September 6, 2015 from The Fall Color Guy. Check out The Fall Color Guy on Facebook and at http://biology.appstate.edu/fall-colors:
The word for this week is …. "green". Although this is the Labor Day weekend, the plants are still laboring and by that, I mean still doing photosynthesis and converting carbon dioxide into sugars and starches. However, there are a few plants that have started to turn early, so if you come to the High Country in the next few weeks, you'll be able to see a little color. But for now, the hillsides are still dominated by the color green.
The main turning plants are some maples (just a few though), and huckleberries (on the rock outcrops mainly) and some sassafras which are showing orange and red coloration. Most everything else is still green. I did see a Viburnum beginning to turn its usual deep orange, but it was an isolated occurrence, and although I saw one patch of red Galax, all the rest were still deep green.
It's been warm during the days while the mornings have been cool. These are near perfect conditions for a good fall color season. I've noticed a few tulip poplars showing some yellow, which may indicate some effect of the earlier dry period that we had in July, and our dogwoods continue to deepen their burgundy red leaves even more. But everything else looks great, and so at this point in time, I'm optimistic that we should have good fall leaf color in October.
I'll post an album of my best pictures from today's hike on the Beacon Heights trail. This is a short, but highly recommended trail, right off the Blue Ridge Parkway east of Grandfather Mountain. The rock outcrops afford great views of the forests in the Wilson Creek drainage to the east and there are abundant witch hazel, one of the few plants that flowers in the fall.
So, until next week, enjoy the rest of your Labor Day Holiday!
Fall Color Report for Week of August 30, 2015 from The Fall Color Guy. Check out The Fall Color Guy on Facebook and at http://biology.appstate.edu/fall-colors:
As the end of August approaches, we're starting to see the very beginnings of fall color, but only sporadically. The forests are still quite green and lush, but the sentinels, those early turning species, are letting us know that bigger things are in store over the next few weeks. Burning bushes are starting to turn their vivid red (Euonymus alata), and dogwoods (Cornus florida) are slowly turning a deep burgundy red. There are a few scattered sugar and red maples that are turning now, but these the exceptions, rather than the rule. In Boone, along Rivers Street, many of the sugar maples turn early, but I think this is due to stresses resulting from the steam line running along the road, plus road salt from last winter, and compacted soils. Finally, two of our most notable vine species, poison ivy (Toxicodendron radicans) and Virginia creeper (Parthenocissus virginiana) are starting to turn. Poison ivy turns an orangy-red color, while Virginia creeper turns a brilliant red. Because they turn so early, the trees that they climb up are still green, so it's a nice display of Christmasy colors here early in the fall color season.
A recent trip to Howard's Knob this past Thursday, which is 4,400' in elevation, or about 1,000' higher than the town of Boone, showed the forests there to still be very green. I'll check out Grandfather Mt. this week, because it's nearly 1,500′ higher than Howards Knob, and colors will start earlier there than just about anywhere else here in the High Country. Fall colors begin to develop first at higher elevations (which are colder), and then they move downhill, about 1,000′ every 7-10 days later. The lack of color change at Howards Knob shows that we're still at least a week or two away from wide-scale color changes here in the Southern Appalachians.
As I noted in several previous postings, the weather over the next four weeks (essentially September) can have a large influence on the timing and quality of fall leaf color. For the upcoming week, the situation is mixed – there is a chance of rain nearly every day (but except for Monday, is less than 40%). Temperatures will be in the high 70s and lows around 60F, which is not too bad. If morning temperatures keep dropping through September, that will be good news for fall color development. Here's the official National Weather Service forecast site: http://forecast.weather.gov/MapClick.php
As you may or may not know, there is a strong El Niño forming off the west coast of South America. An El Niño event occurs when westward winds slow down off the west coast of South America. This reduces upwelling of deep ocean cold waters and as a result, the upper Pacific Ocean heats up more than normal. This year NOAA predicts a strong El Niño, with heating of up to 2C more than normal (or about 3.6F).
These events often cause weather changes around the world, and can affect our fall and winter weather patterns. The NOAA El Niño prediction center says this about effects on the United States: "Across the contiguous United States, temperature and precipitation impacts associated with El Niño are expected to remain minimal during the remainder of the Northern Hemisphere summer and increase into the late fall and winter (the 3-month seasonal outlook will be updated on Thursday August 20th). El Niño will likely contribute to a below normal Atlantic hurricane season…."
The Climate Prediction says that past El Niño effects result in warmer, but drier falls in the Southeastern United States. See these maps:
Temperature:
http://www.cpc.ncep.noaa.gov/…/…/enso/elnino/UStrank/ond.gif
Precipitation:
http://www.cpc.ncep.noaa.gov/…/…/enso/elnino/UStrank/ond.gif
So, while mild drought favors more intense red fall leaf colors, warm temperatures have the opposite effect, and can delay the onset of peak colors. However, when I review my notes for past years, I don't see the peak timing varying by that much. It may be delayed a few days when warm, or advanced when cold, but only by 3-4 days. So generally, the peak occurs nearly the same time each year, which for the Boone area, is mid-October (12th-16th usually), the last week of September or first week of October for the highest elevations on Grandfather Mt. and the last week of October in the Asheville area, which is at an elevation of about 2,400'.
Happy End of August!
Fall Color Report for Week of August 23rd, 2015 from The Fall Color Guy. Check out The Fall Color Guy on Facebook and at http://biology.appstate.edu/fall-colors:
Although it is technically still "summer", there are signs that the trees are getting ready for fall and winter. Here in the High Country (otherwise known as the Paradise of the East), the dogwoods have already started turning their deep red. The photo attached is of three trees growing across the street from my house. They are among the first trees to turn each year. Some red and sugar maples, which are also early turners, have begun to turn orange-red or yellow, although this is quite sporadic in the forests. I've noticed that the same trees always turn color early each year, and so it's either genetic, or, they are growing in a spot that stresses them and induces early leaf coloration.
Of course, the black locusts are now almost totally defoliated (those are the numerous brown trees you now see lining the highways), but this is due to an insect known as the black locust leaf miner (a mining insect eats out the leaf between the upper and lower surfaces, like a miner tunneling through the soil). It's a native insect and the trees come back each year without problem. We do have to contend in some areas with the tulip poplar weevil – see my previous posting on that. But it's not widespread, and shouldn't be a problem in most areas.
2015 UPDATES
For the 4th year in a row WataugaRoads.com is teaming up with Dr. Howard Neufeld, Professor of Plant Eco-physiology at Appalachian State University, better known as The Fall Color Guy to provide information as the colors start changing.
 Unlike in 2013 with the record setting rain, and in 2014 with much cooler temperatures, it appears that 2015 is just right. Recently WataugaRoads.com ask Dr. Neufeld about predictions for the upcoming fall season, and his full reply is below.
"As for predictions, at least at this point, I don't see any weather problems – it's not too dry or too wet, although it has been hot. The one new development has been the explosion of the population of yellow poplar leaf miners, which have been attacking these trees, turning their leaves a bronze/brown color. This is a native insect and for some reason, especially along the I-40 corridor from Old Fort to Asheville, they are very abundant. It looks like the trees are turning color for the fall there. I confirmed the cause with the US Forest Service, and it's also widespread, going as far north as West Virginia this year. Otherwise, I don't see any major flags against having a good fall leaf color season this year."
Dr.Neufeld shared some thoughts just before previous fall seasons that are still relevant for this, or any, fall season:
As for wet weather, there have been some publications on the impacts of weather on fall color (especially timing, not so much quality). Precipitation has only minor effects on timing in the fall. Temperature is more important. So, at this point, I don't see anything to make me think that fall colors will be adversely affected, either in timing or quality.
What happens in mid- to late August and in September, temperature-wise, will be more important, especially for quality (notably the intensity of the red colors)".
People think fall colors are good when they last a long time, and have plenty of brilliant reds interspersed with the oranges and yellows. So, the quality will depend on how much "redness" we have this fall.
Trees tend to make more red colors (anthocyanins) in the fall when it's cool and sunny, and if we have a slight but not severe drought.
Sunny days means more photosynthesis, and more sugars produced in the leaves, and sugars induce anthocyanin production.
A slight drought impairs uptake of nitrogen (we think) and some experiments suggest that plants low on N make more anthocyanins.
Usually, fall colors peak around Oct 11-14 in the Boone area; sooner by a few days up to a week at higher elevations, later at lower ones. Nice colors can stick around for a week or more, although the peak usually comes and goes in just a few days, weather permitting (no high winds for example)".