Fall Color Peak Map
Map Conceived by Dr. Howard Neufeld and Michael Denslow
Map Constructed by Michael Denslow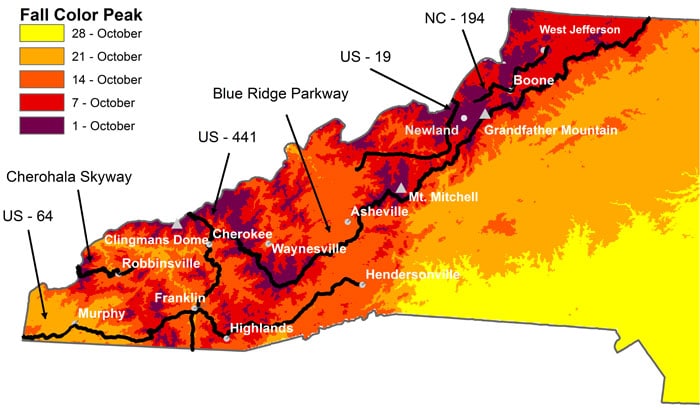 2015 UPDATES
For the 4th year in a row WataugaRoads.com is teaming up with Dr. Howard Neufeld, Professor of Plant Eco-physiology at Appalachian State University, better known as The Fall Color Guy to provide information as the colors start changing.
 Unlike in 2013 with the record setting rain, and in 2014 with much cooler temperatures, it appears that 2015 is just right. Recently WataugaRoads.com ask Dr. Neufeld about predictions for the upcoming fall season, and his full reply is below.
"As for predictions, at least at this point, I don't see any weather problems – it's not too dry or too wet, although it has been hot. The one new development has been the explosion of the population of yellow poplar leaf miners, which have been attacking these trees, turning their leaves a bronze/brown color. This is a native insect and for some reason, especially along the I-40 corridor from Old Fort to Asheville, they are very abundant. It looks like the trees are turning color for the fall there. I confirmed the cause with the US Forest Service, and it's also widespread, going as far north as West Virginia this year. Otherwise, I don't see any major flags against having a good fall leaf color season this year."
Dr.Neufeld shared some thoughts just before previous fall seasons that are still relevant for this, or any, fall season:
As for wet weather, there have been some publications on the impacts of weather on fall color (especially timing, not so much quality). Precipitation has only minor effects on timing in the fall. Temperature is more important. So, at this point, I don't see anything to make me think that fall colors will be adversely affected, either in timing or quality.
What happens in mid- to late August and in September, temperature-wise, will be more important, especially for quality (notably the intensity of the red colors)".
People think fall colors are good when they last a long time, and have plenty of brilliant reds interspersed with the oranges and yellows. So, the quality will depend on how much "redness" we have this fall.
Trees tend to make more red colors (anthocyanins) in the fall when it's cool and sunny, and if we have a slight but not severe drought.
Sunny days means more photosynthesis, and more sugars produced in the leaves, and sugars induce anthocyanin production.
A slight drought impairs uptake of nitrogen (we think) and some experiments suggest that plants low on N make more anthocyanins.
Usually, fall colors peak around Oct 11-14 in the Boone area; sooner by a few days up to a week at higher elevations, later at lower ones. Nice colors can stick around for a week or more, although the peak usually comes and goes in just a few days, weather permitting (no high winds for example)".
Fall Color Report for Week of August 23rd, 2015 from The Fall Color Guy. Check out The Fall Color Guy on Facebook and at http://biology.appstate.edu/fall-colors:
Although it is technically still "summer", there are signs that the trees are getting ready for fall and winter. Here in the High Country (otherwise known as the Paradise of the East), the dogwoods have already started turning their deep red. The photo attached is of three trees growing across the street from my house. They are among the first trees to turn each year. Some red and sugar maples, which are also early turners, have begun to turn orange-red or yellow, although this is quite sporadic in the forests. I've noticed that the same trees always turn color early each year, and so it's either genetic, or, they are growing in a spot that stresses them and induces early leaf coloration.
Of course, the black locusts are now almost totally defoliated (those are the numerous brown trees you now see lining the highways), but this is due to an insect known as the black locust leaf miner (a mining insect eats out the leaf between the upper and lower surfaces, like a miner tunneling through the soil). It's a native insect and the trees come back each year without problem. We do have to contend in some areas with the tulip poplar weevil – see my previous posting on that. But it's not widespread, and shouldn't be a problem in most areas.